Santo Domingo - With the competition set to begin at the World Weightlifting Championships tomorrow, the dining hall got quite a workout tonight.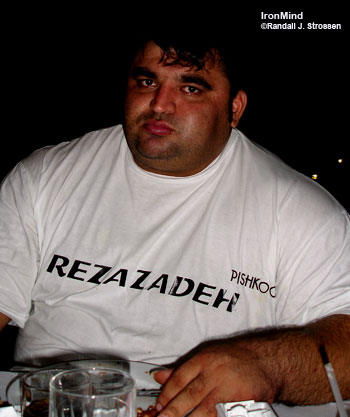 Two-time Olympic gold medalist and the man who owns the world records in the super heavyweight class, Hossein Rezazadeh tunes up in the dining hall. IronMind® | Randall J. Strossen, Ph.D. photo.

The biggest star of the weightlifting world, super heavyweight king Hossein Rezazadeh won't say much about what he has been lifting in training, preferring to have his performance speak for itself, but there is a general feeling that Rezazadeh is capable of breaking any of his world records just about any time he steps on the platform. Still, he can't help but be discouraged by the shocking news that nine of his teammates tested positive, and he might also be saving some of his ammo for the Asian Games later this year.

Talking with Yordan Ivanov, who appears to be taking primary responsibility for the Iranian positives, he said that he is leaving the team and will be returning to Bulgaria.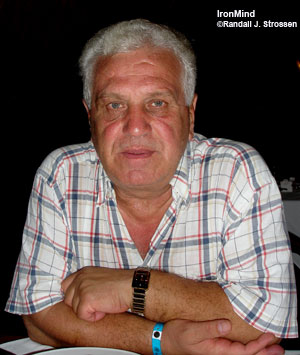 Yordan Ivanov, the coach of the Iranian weightlifting team at the time of the nine positives, said that it was not his decision to leave and he maintains that the lifters are not guilty. IronMind® | Randall J. Strossen, Ph.D. photo.