The Diesel Crew's Jim Smith checked in with some exciting grip news.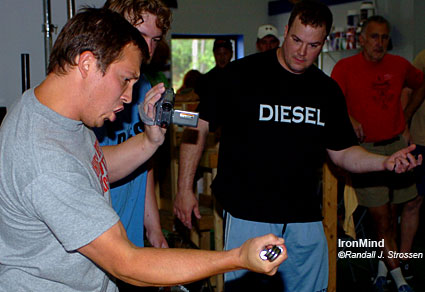 With Jedd Johnson running the camera and Jim Smith on the clock, Scott George attacks the No. 3 Captains of Crush® Gripper at the 2006 Global Grip Challenge, held at Sorinex last year. IronMind® | Randall J. Strossen, Ph.D. photo.

"First off, we are promoting a fundraiser for two top-level grip athletes, Chad Woodall and Scott George, to go over and compete against the Europeans in the Munsterland Grip Challenge on May 19, 2007. The idea is to collect donations through the Diesel site with 100% of the proceeds going directly to the grip athletes to offset some of the costs of their travel. We want to support these US Grip athletes at Diesel and we think this is the perfect opportunity. It is very rare that the US and Europeans get to compete against each other in the sport of grip."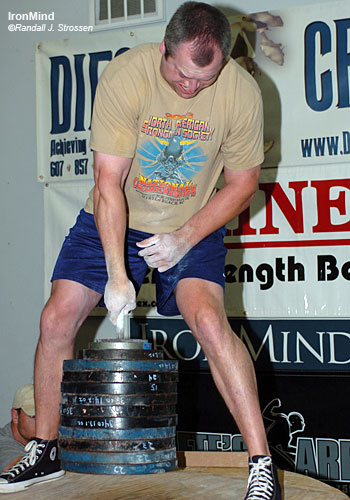 Chad Woodall hit this 382.5-pound V-bar world record on his way to the large hands title at the 2006 Global Grip Challenge. IronMind® | Randall J. Strossen, Ph.D. photo.

Scott George is the 2006 Global Grip Challenge small-hand champion and Chad Woodall is the 2006 Global Grip Challenge large-hand champion, and speaking of grip contests, Smith also said, "We decided on the date for the US Grip Championships - August 25, 2007. They will be held in Pennsylvania this year and it looks like David Horne, the grip legend from Europe, will be traveling all the way over to compete in the championships. David is well-known all across Europe and the United States as one of the pioneers in the sport of Grip and now he will get a chance to compete against some of the best in the United States."

For full details and other Diesel Crew developments, please check the Diesel Crew website.