Despite Torn Quad, Derek Poundstone says: "I'm Going to Compete" in World's Strongest Man
"Everything is attached," strongman competitor Derek Poundstone told IronMind today, responding to reports that he might have torn ligament, as he confirmed that his injury was a muscle tear, but that won't keep him out of the 2010 MET-Rx World's Strongest Man contest.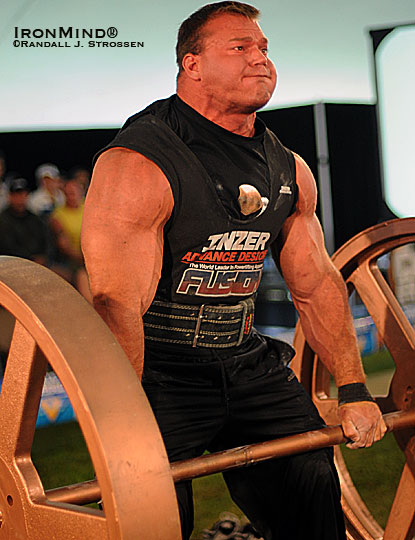 Right before Fortissimus 2008, Derek Poundstone was diagnosed with abscessed tooth, but that didn't keep him from biting into the contest and leaving with the title. For Poundstone, dealing with pre-contest injuries is familiar territory, and he told IronMind that he plans to compete in the MET-Rx World's Strongest Man contest despite his torn quad. IronMind® | Randall J. Strossen photo.


"Muscle tears are unpredictable," Poundstone said, as he explained that his medical doctor had said there was no way that he would be able to compete in the upcoming World's Strongest Man contest, and the hard-charging Poundstone allowed that he'd personally reached the point where he was saying to himself, "No—I can't do it."

But that's all changed now and Poundstone, who sounds confident and ready to jump in the fray, said that late last week he decided not only that he could compete, but that he would and, fitting his style, he's already running through events in his mind, ticking off what won't even be affected by his leg. Confidence is in no short supply for the strongman who has a history of going from the doctor's office or the hospital to the field of competition on a somewhat regular basis—always beating the odds as he's won when the conventional wisdom was that he'd be sidelined.

Focusing on the MET-Rx World's Strongest Man 2010 contest, Poundstone said, "If it hurts, I'll just drop out . . . but I don't think it will happen."

Meanwhile, while letting his torn quad heal, Poundstone is banging away on his upper-body training, doing 315 lb. x 10 in the seated military press today, for example, along with farmer's walk shrugs (150 lb. per hand) and side laterals (50 lb. for 3 sets of 12 reps).

"My upper body's never been stronger," said Poundstone. "I'm going to compete . . . What can the body do?!"

###


Want to talk strength? Join the IronMind Forum!

You can also follow IronMind on Twitter.