Derek Poundstone to Lead Off Fortissimus 2009
Montmagny, Quebec - This is one of those drawings where you'd prefer to be at the top of the list, but 2008 Fortissimus winner Derek Poundstone was drawn for the leadoff position in this year's contest.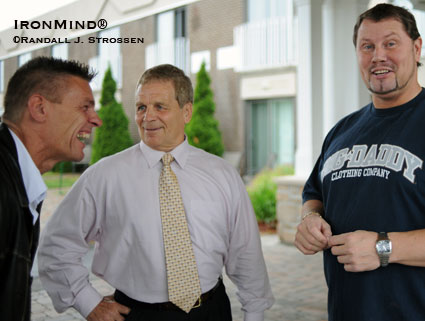 Enjoying the serious business of strongman (left to right): Marcel Mostert, Paul Ohl, Magnus Ver Magnusson. IronMind® | Randall J. Strossen photo.

The opening today included bestowing a Fortissimus Lifetime Achievement Award on four-time World's Strongest Man winner Magnus Ver Magnusson, who in expressing his thanks, graciously saluted the organizing committee, since he said that he knew firsthand how difficult it is to organize a strongman contest.

Here's the starting order for Fortissimus 2009:
Derek Poundstone
Brian Shaw
Derek Boyer
Andrus Murumets
Mark Felix
Agris Kazelniks
Mikhail Koklyaev
Zydrunas Savickas
Louis-Philippe Jean
Christian Savoie
Travis Ortmayer
Phil Pfister
Jimmy Marku
Terry Hollands