Derek Poundstone: World Record Bus Pull at the Mohegan Sun
It had never been done before: Derek Poundstone pulled two full size motor coaches yesterday at the Mohegan Sun, setting a new world record for his efforts.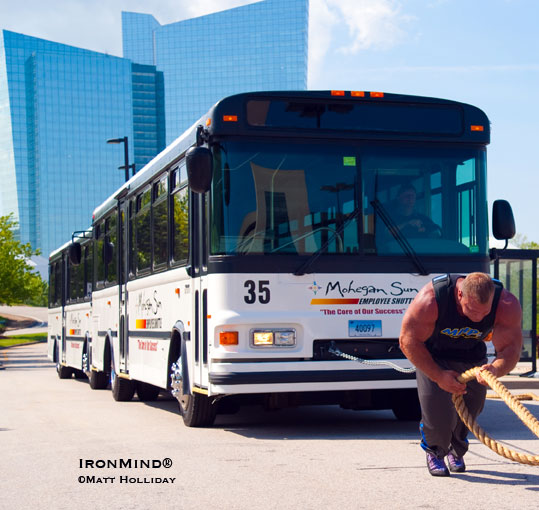 Two full-size buses weren't a match for Derek Poundstone's muscles yesterday afternoon at the Mohegan Sun. IronMind® | Matt Holliday photo.


As challenging as it was to pull the 56,000-pound payload 100 feet in 44.6 seconds, Poundstone is ready for more, telling IronMind®, "It wasn't a walk in the park, but I never doubted I could do it. Next year I'll have to try three buses!"

Poundstone's big pull was verified by the Mohegan Department of Athletic Regulation, and it was well received by the spectators who had gathered to cheer on the local hero who also happens to be one of the favorites for tomorrow's Giants Live strongman competition at the Mohegan Sun. ESPN Sports Center, Fox, Channel 3 and a number of local media representatives covered the event, giving it wide exposure.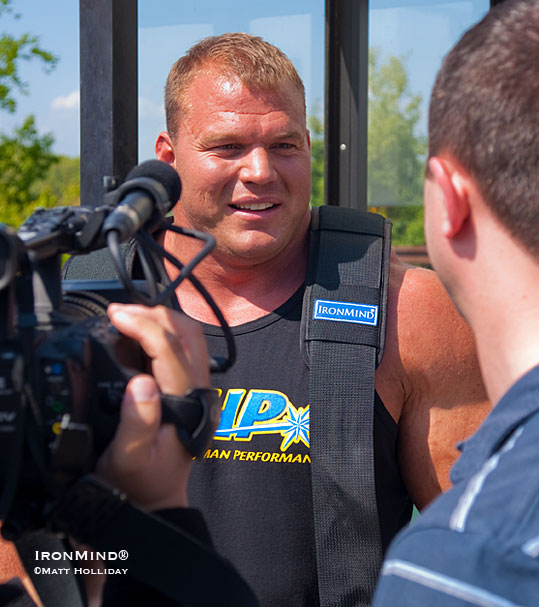 Surrounded by media crews, Derek Poundstone describes his world record bus pull for ESPN, Fox, and Channel 3, as well as local media. IronMind® | Matt Holliday photo.