Derek Poundstone Wins the Arnold Strongman
Columbus, Ohio - Derek Poundstone won the Arnold Strongman contest tonight.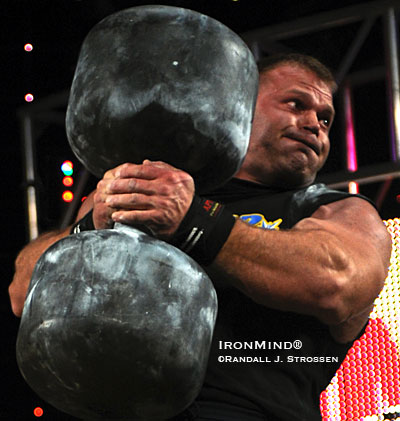 Derek Poundstone decimated the field on the Circus Dumbbell, leapfrogging over Mikhail Koklyaev to claim the 2009 Arnold Strongman title. IronMind® | Randall J. Strossen photo.


Mikhail Koklyaev was second and Travis Ortmayer was third.

Poundstone came into the final event trailing Koklyaev by two points, so to win the contest, he would have to beat Koklyaev; and at least one other competitor would have to place between himself and the Russian strongman.

Poundstone left no doubt that he was playing for keeps as he banged out 15 reps, six more than the top performance up to that point. Koklyaev needed 10 reps to win, but he had to settle for 8, which dropped him from first to second place overall. Travis Ortmayer made 9 reps, moving him from a tie for fourth place to third place in the final overall standings.