Derek Poundstone Three-Peats at the Mohegan Sun: World Strongman Series Grand Prix Winner
Mohegan Sun—Derek Poundstone made it three in row at the Mohegan Sun when he won the 2010 World Strongman Super Series Grand Prix tonight in convincing style.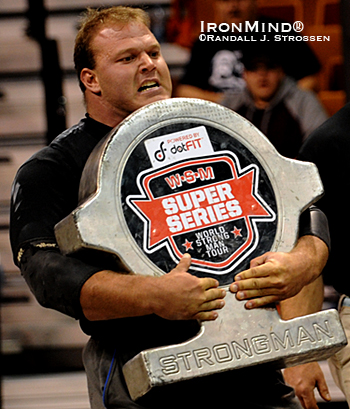 Derek Poundstone later said he hated this event—the Shield Carry—because it's so hard, but he turned its difficulty to his advantage as he outpaced the rest of the field. IronMind® | Randall J. Strossen photo.

Poundstone won three of six events outright, and was in a three-way tie for first on another; Poundstone finished the night with 32 points. Brian Shaw was second, with 27.5 points, and Stojan Todorchev was third, with 23.3 points (edging out David Ostlund on countback).
Brian Shaw was the only competitor to load all the stones on the final event—once again proving his superiority on this key strongman event. After Shaw had loaded the fifth stone, he said, "I wanted to put a little pressure on the top two guys and see if they can come through."
The blazing footspeed of Stojan Todorchev had been on display all afternoon, and he attacked the stones as if he took Shaw's challenge to heart, but when the fourth stone rolled out of the holder, had to be retrieved, rolled back and reloaded, that sank Todorchev's chances of matching Shaw's performance.
Despite his strong win, it wasn't as if Derek Poundstone counted his chickens ahead of time: As things were getting underway, IronMind® asked Poundstone, "Do you feel as if you own this place?" Poundstone shook he head and said, "No, on any given Sunday . . . ." That might be, but on this Sunday, once again, Derek Poundstone was a sure bet at the Mohegan Sun.
After the competition, David Ostlund, Stojan Todorchev, Johannes Arsjo, Mark Felix and Jason Bergmann tried to close a No. 3 Captains of Crush® Gripper—all turned in commendable performances, with David Ostlund missing by just a whisker.