Derek Poundstone Headed to Giants Live - London
He's nursing his back and therefore won't be competing, but strongman fans still can count on seeing Derek Poundstone at Giants Live–London.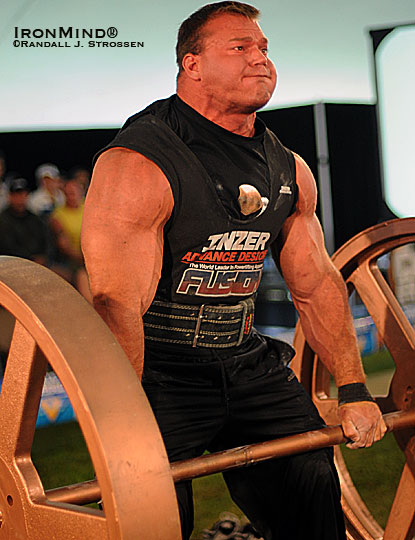 Derek Poundstone—whose strongman belt is notched with wins at Giants Live, the Super Series, Fortissimus and the Arnold—will be in London at the Giants Live event, March 19-20. IronMind® | Randall J. Strossen photo.

Poundstone's injury put him on forced-hiatus status as a strongman competitor, but, "The really good news is Derek is still on his way to London and is going to help The Viking on the mic. I am really pleased with him doing this as British fans are still most keen to meet him!" Giants Live Director Colin Bryce told IronMind today.

Just a second: The Viking (aka Svend Karlsen), who once said, "Never give me a microphone," because of what he might say or sing, paired up with Derek Poundstone, who rips good lines as easily as he tears up strongman events?

Sounds as if this could be a show in itself.
###
Want to comment on this article or just want to talk strength? Join the IronMind Forum!

You can also follow IronMind on Twitter.