Derek Poundstone Earns His Name: What Else Would You Call a Strongman?
Montmagny, Québec - Never without a quick answer, when Derek Poundstone was asked for his thoughts right before he started his turn at the final round of stones - his last chance to beat Zydrunas Savickas and claim the Fortissimus title - he mentioned his name, saying that we'd find out if he was worthy of it.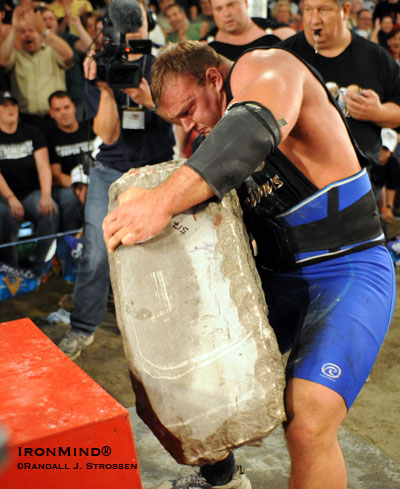 It was 517 pounds, but this was the stone that stood between Derek Poundstone and the Fortissimus title. Poundstone loaded the stone, the only man to do so, for which he won the title and he was crowned, "The mightiest man on the planet and the modern day successor to Louis Cyr." IronMind® | Randall J. Strossen photo.

And pound the stone he did - the only man to load the 517-pound Cyr stone, taking the title and capping a great effort in which he hounded Zydrunas Savickas the first day, but came into day two in second place. That would change, though, as Poundstone pulled ahead today, although he and Savickas were battling neck and neck. Still, Poundstone wasn't ready to claim victory when he got ahead: "I don't like to count my chickens until my eggs hatch," he said, when people were ready to congratulate when he first pulled ahead of Zydrunas Savickas.

Derek Poundstone never lost his sense of humor either, because when he was second to Zydrunas on the one-arm dumbbell medley, he quipped, "At least I beat Travis - that gives me a warm and fuzzy feeling inside."

At that point, Poundstone led Savickas by one and a half points, but Savickas won the Atlas stones and Poundstone was third. With just the natural stones left, Savickas blazed through the first two, but was stopped by the third stone - the 517-pound monster. If Poundstone were to beat Savickas, he'd have to do what nobody else had managed - he would have to load this beast, and that's just what he did.

"Derek was fantastic tonight," Paul Ohl said. "Incredible, really. The challenge was met."

Here are the final places and points:

1. Derek Poundstone 119
2. Zydrunas Savickas 118
3. Sebastian Wenta 84.25
4. Louis-Philippe Jean 83.5
5. Travis Ortmayer 76.5
6. Mikhail Koklyaev 76.5
7. Mark Felix 67.5
8. Stefan Solvi Peturrson 63.75
9. Andrus Murumets 62
10. Christian Savoie 42.5
11. Arild Haugen 40.5
12. Ervin Katona 36.5
13. Dominic Filiou 25.5

Zydrunas Savickas won the Jon Pall Sigmarrson award for the highest total weight lifted over the two-day competition - a contest that ran approximately seven hours the first day and eight hours the second day!

As on the first day, the stands were packed again today with hugely enthusiastic fans who seemed to enjoy every moment of this epic strongman contest, proving that IronMind®'s immediate confidence in Québec as the natural home for this competition was founded on a rock as solid as the one that Derek Poundstone lifted for the title.