Derek Boyer Wins Australia's Strongest Man, Headed to World's Strongest Man
"The Neo Netwise Australia's Strongest Man 2011 was run and won in trying stormy weather conditions this past weekend by Derek Boyer with some outstanding results over the two day event," Bill Lyndon reported to IronMind.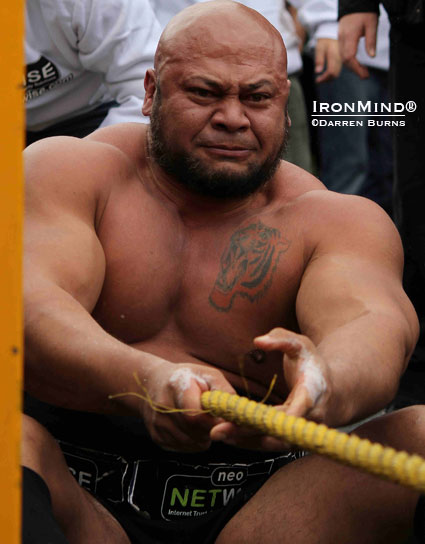 Derek Boyer won Australia's Strongest Man and is therefore on his way to the World's Strongest Man contest, for his eighth appearance in 15 years. IronMind® | Darren Burns photo.


"He did not have it all his way with some of the young bulls charging up the scoreboard with just three points separating 5 athletes after three events on the first day of competition with special mention to Daniel Macri winning the 410-kg Car Walk, Eben Le Roux winning the 11-ton Arm- over-Arm Truck Pull, and Marc Wells winning the 342-kg Frame Carry. But it was Derek's experience in the second day that saw him run away with the win with consistent top three placings in the remaining four events.

For Derek's effort, he has won his place at this years World's Strongest Man in the U.S. giving Derek 8 appearances at WSM over a 15-year period which would surpass any other strongman in the history of the sport.

Final results:
| | | |
| --- | --- | --- |
| 1. | Derek Boyer | 42.0 |
| 2. | Eben LeRoux | 33.5 |
| 3. | Marc Wells | 31.5 |
| 4. | Daniel Macri | 28.5 |
| 5. | Adam Mazzon | 26.5 |
| 6. | Jordan Steffens | 18.0 |
| 7. | Tim O'Shea | 13.0 |

Under-105 kg Australia's Strongest Man 2011

"We staged our first ever under105-kg Australia's Strongest Man this same weekend with a hard fought battle in this relatively new class in Australia with some very close results over the two day event with relative newcomer to strongman Nevin Mills taking the win on countback against David Parmiter," said Lyndon. "This is sure to see a big battle at their next meeting at the Giants Live Downunder in a 105-kg. championship event.

"Special mention goes to David Parmiter for winning the Brute Strength Award covering both classes with an amazing Eureka Stone lift in a series, getting a 160-kg stone over a 120-cm bar at just 93-kg body weight, just to mention a few from his great performances over the weekend.

Final Results, Top Three: Under 105 kg Australia's Strongest Man 2011:
| | | |
| --- | --- | --- |
| 1. | Nevin Mills | 30.0 |
| 2. | David Parmiter | 30.0 |
| 3. | Nick "The Brick" Maloni | 29.0 |
Note: Nevin Mills won on countback and talk about close, Nick Maloni was the leader going into the stones.
For full results, please visit http://www.aussiepower.biz/.



###

The IronMind Forum: discuss this article, talk strength, get help with your training.

You can also follow IronMind on Twitter.