Derek Boyer Leads Melbourne Fit X Strongman
"Day one at the Melbourne Fit X started with the Eureka Stones on the Banks of the Yarra River in Central Melbourne with some scorching times and strong efforts from all six competitors," Aussiepower's Bill Lyndon reported to IronMind today.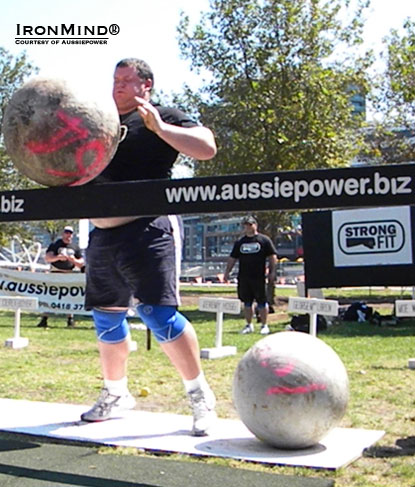 "George MacLaren, a 170-kg and 193-cm giant of a man; and at 26 years of age, he has a bright future in strongman . . . Halfway through his stone run," said Bill Lyndon. IronMind® | Courtesy of Aussiepower.



"Leading the Clash of the Titans Series 2 Is Derek Boyer. Close behind is the current leader of the Clash of the Titans series Eben Le Roux. Tomorrow's event is the 360-kg Giant Frame carry followed by three events on the Sunday which will be the Deadlift for reps @ 320 kg, the Log lift for reps @ 130 kg and the final event for the day the 398-kg Car Walk."

Here is the official order after one event:

1. Derek Boyer
2. Eben Le Roux
3. Jeremy Hogg
4. George MacLaren
5. Marc Wells
6. Moe Westmoreland

###

Want to comment on this article or just want to talk strength? Join the IronMind Forum!

You can also follow IronMind on Twitter.