Denny Felix Brings Strongman to the 2010 Bodypower Expo
Fitness expos keep expanding and strongman contests are along for the ride - this past weekend, a nearly-doubled in size Bodypower Expo NEC in Birmingham, England had the pleasure of hosting Denny Felix's latest strongman contest, with Ms. Felix telling IronMind® she was, "proud to be a part of such an amazing expo . . . We were given a chance to show that strongman isn't just for TV."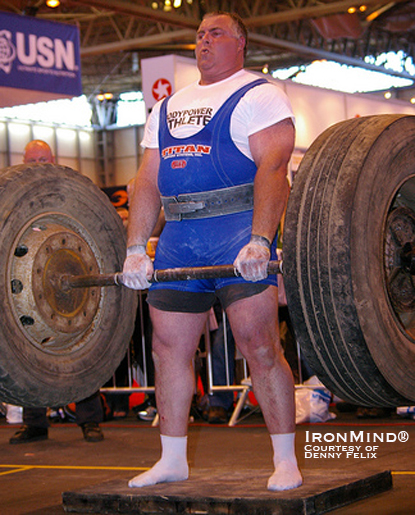 Mark Westaby won the strongman contest at the 2010 Bodypower Expo, thereby earning an invitation to the Strongman Champions League - Ireland competition. IronMind® | Photo courtesy of Denny Felix.


"We started Saturday with an amazing performance by some of the country's top under-105-kg athletes. Points were very close throughout, with the victory going to Paul Cater, closely followed by Mark Clegg and Ben France. The spectators were amazed at the weights these lighter guys were throwing around," Denny Felix said.

"Moving onto the heavies in the afternoon we had 12 athletes battling it out for the wild card first prize at Strongman Champions League Ireland, deservedly won by Mark Westaby, who put on a tremendous performance throughout the day. Gary Gardner came in second, followed by new kid on the block Jack Macintosh.

"Terry Hollands, Mark Felix, Jimmy Marku and Darren Sadler were busy all day Saturday on the sponsors' booths.

"Sunday brought thousands back to the arena to see firsthand how the athletes train. Hollands, Felix, Marku and Shahlaei provided a training session, seminar and exhibition. The strongman event was a huge success, with a constant queue for photos and autographs.

"Big thanks to Pioneer Events Ltd for giving us the chance to show how popular and versatile the sport is and for inviting us back next year for something even bigger, watch this space!"

Just how exciting was this?

"I'm still buzzing from the weekend," Denny Felix said.


Want to talk strength? Join the IronMind® Forum!

You can also follow IronMind® on Twitter.