Dennis Rogers, Chet Yorton and Fred Lowe Honored at AOBS
Performing strongman Dennis Rogers, bodybuilder Chet Yorton and Olympic weightlifter Fred Lowe were honored at the AOBS dinner Saturday night—formally recognizing their achievements in their respective iron game specialities.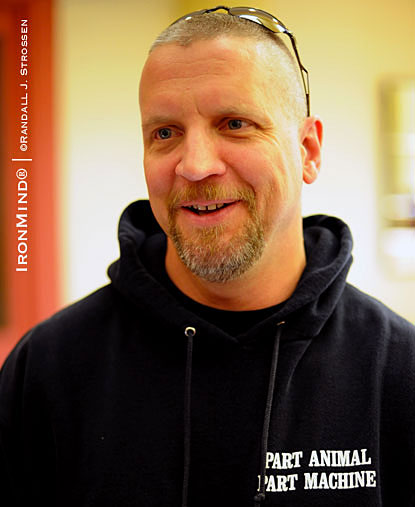 Pat Povilaitis's sweatshirt says it all. He's a an engineer by day, but that's only part of the story as the performing strongman side of Povilaitis's life is no less challenging and possibly more eye catching: As part of his act at the AOBS dinner on Saturday, Povilaitis stuck his hand in a mountain lion trap that was chained to an engine block. When the trap snapped on his hand, Povilaitis proceeded to deadlift the engine block. What'd you do on Saturday night? IronMind® | Randall J. Strossen photo.

The AOBS maintains the traditions and camaraderie longstanding in the Iron Game and the annual dinner draws hundreds of enthusiasts traveling internationally as well as from across North America. Along with the presentation of awards, the AOBS also fills the evening with a program that includes a variety of strength-related performances. This year, in addition to Pat Povilaitis, the program featured perennial star Slim "The Hammerman" Farman, as well as Kara Bohigian, who did some power clean and jerks, as well as some deadlifts.

For more information on the AOBS, please visit their official website.

###

Want to talk strength? Join the IronMind Forum!

You can also follow IronMind on Twitter.