Delmar Carter Certifies on the IronMind Red Nail
Not one to be stopped by acromegaly and two craniotomy surgeries, Delmar Carter began bending in February 2012 and today he has been certified on the IronMind Red Nail, a benchmark short steel bend.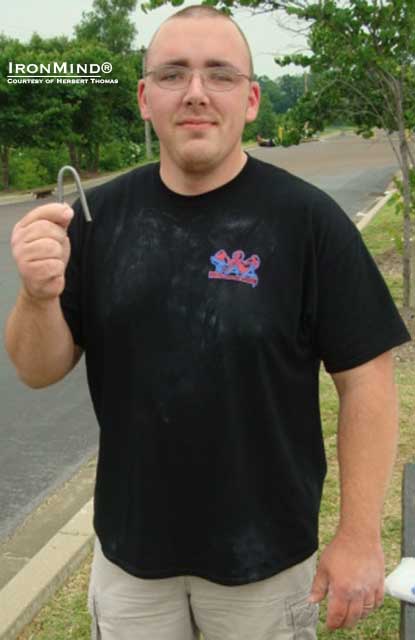 33-year old Delmar Carter certified on the IronMind Red Nail today and he's not stopping there: He has the CoC No. 3 and the IronMind Gold Nail on his to-do list. Delmar is 5' 11' tall and weighs 270 lb. IronMind® | Photo courtesy of Herbert Thomas.


"I am a Prototype Medical Machinist and Programmer (so there's my first connection with steel) that enjoys your not so traditional means of strength gain," Delmar told IronMind. Delmar said he bends three or four times a week and as "an amateur arm wrestler that just made the jump up to the Open classes and lower arm and wrist strength is a huge factor. I am a member of the Tennessee Arm Wrestling Association and I have found that short steel bending has brought me farther than I could have imagined in wrist and forearm strength.

"My main long term goal is to become one of the first the people to on the Gold Nail Roster," said Delmar, and his referee, Herbert Thomas, said Delmar "had never even seen a [Captains of Crush] number 3 gripper until I showed him mine. He emailed me this morning to thank me and says he is now hungry to close the number 3," so watch for more big accomplishments from Delmar down the road.

Congratulations, Delmar, your name has been added to the Red Nail Roster, and many thanks to Herbert Thomas for refereeing on Delmar's official attempt.

### 



The IronMind Forum: discuss this article, talk strength, get help with your training.

You can also follow IronMind on Twitter and on Facebook.