The December issue of MILO: A Journal For Serious Strength Athletes is out, so be ready for a boatload of information and inspiration to kickstart your holiday season training.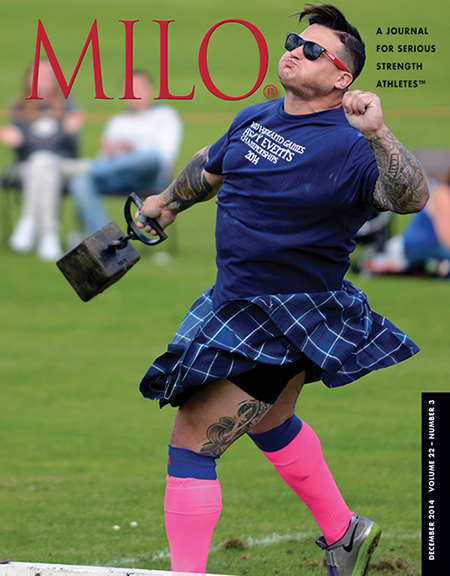 At the 2014 World Heavy Events Championships, Matt Vincent and Dan McKim were tied going into the final event, the 56-lb. weight for distance, so whoever won that event would leave with the victory. Matt uncorked a 42' 9-1/2" throw, almost 6" ahead of Dan's top mark, for the win, and when the dust settled, he said, "It doesn't get any better than this." Randall J. Strossen photo


MILO's contest coverage this issue includes weightlifting at the red hot Asian Games, two top Highland Games competitions and mas wrestling from the Olympia. On the people side, cover guy Matt Vincent is put on center stage, along with shot putter Kurt Roberts.

We have more training information than we can easily summarize here, so follow this link for the complete Table of Contents.

Be sure to check the regular departments, such as Captains of Crush Grippers: Who's New, 7 Questions (with the Godfather of Strongman, Dr. Douglas Edmunds), and our Roundtable Report (training to reduce concussions in football).

MILO: Good reading that leads to better training.

###

Want to talk strength? Join the IronMind Forum.

You can also follow IronMind on Twitter and on Facebook.