David Bedzhanian Defends His 105-kg Title in Tirana
Defending 105-kg senior European weightlifting champion David Bedzhanian (Russia) improved his total by six kilos over last year and once again relegated his teammate Maksim Sheiko to the silver medal overall.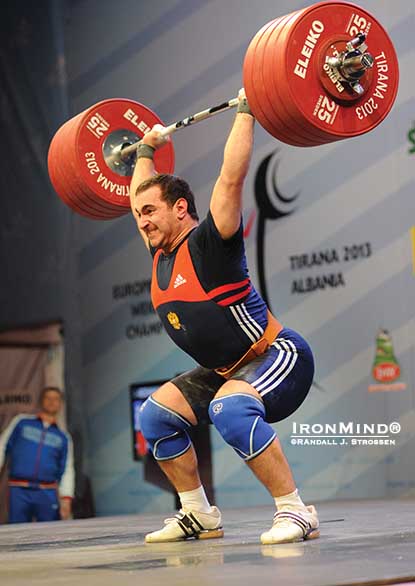 His power jerk is off the charts: David Bedzhanian blasted this 230-kg overhead on his way to defending his senior European 105-kg weightlifting title. IronMind® | Randall J. Strossen photo


Also as last year, Sheiko won the gold medal in the snatch—hitting 184 kg. Davit Gogia (Georgia) won the silver medal in the snatch with 183 and David Bedzhanian took home the bronze medal with 181 kg.

The clean and jerk was all David Bedzhanian, as one would expect of the world record holder in the lift: his 220-kg opener looked like an empty bar and he barely had to bend his knees to fix the weight overhead when he power jerked it. His 224-kg second attempt was almost as easy and his good lift with 230-kg on his third attempt looked to be well within his ability last night, so watch for more from him in Poland later this year.

The silver medal in the clean and jerk went to Arturs Plesnieks (Latvia), who made 222-kg, and the Sheiko got the bronze medal with his 220-kg lift.

###


Visit the IronMind Forum: talk strength, discuss this story. Strongman, grip, Highland Games, Olympic lifting, stones and more. http://www.ironmind-forum.com/

You can also follow IronMind on Twitter.