Dave Ostlund: Torn Quad Tendon
He wasn't squatting 400 kg, flipping a car or doing laps on the Conan's wheel, but when strongman Dave Ostlund slipped going down some steps, he ended up tearing his right quadriceps tendon.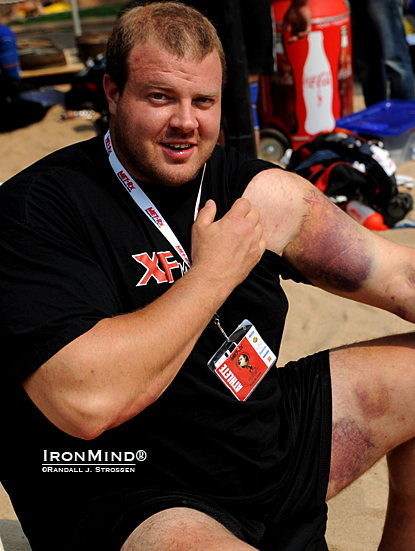 Getting banged up a little is part of strongman: When his left hand slipped on the Block Lift at World's Strongest Man 2010, Dave Ostlund got the bruise you see on his left arm. The abraded left leg is from getting the Africa Stone into position. IronMind® | Randall J. Strossen photo.


"It was just a stupid accident," Ostlund told IronMind. "I heard a definite snap." Ostlund said that he could hobble around after the accident, but when he realized that he could not straighten his leg, he knew what had happened.

Ostlund, whose strongman credits include a World's Strongest Man podium finish, said that he's had chronic tendinitis in both knees so that coupled with an immediate return to training after this year's World's Strongest Man contest might have primed him for this tear.

The accident occurred on December 21, he had surgery on December 29 and is now in a brace. Although Dave still has not been given the full details of his rehabilitation schedule, he anticipates a 3 - 6 month recovery period, and while he doesn't want to rush things, he's already talking about a local strongman contest held in Rochester, Minnesota every June.

###


Want to talk strength or discuss this article? Join the IronMind Forum!

You can also follow IronMind on Twitter.