Dave Morgan: Cross Training for CrossFit's King Kong?
Best known for his Olympic-style weightlifting career, David Morgan gave the CrossFit King Kong workout a try, just to see how he'd stack up on the strength-endurance challenge involving cycles of deadlifts, muscle-ups, cleans and handstand press-ups.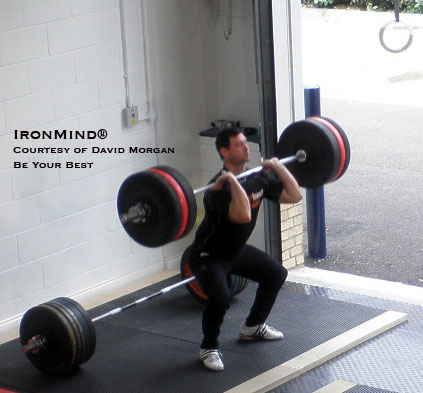 Maybe you've seen him lift at the Olympics or the Commonwealth Games, or heard his voice on Eurosport - Dave Morgan has quite a background in the strength world and just for the fun of it, he recently gave the CrossFit King Kong workout a shot. IronMind® | Image courtesy of Dave Morgan/BeYourBest.

Morgan, for the record, is 44, so he's something of a senior citizen in the crowd of super-fitsters, but no matter, he figured. Showing his confidence, instead of using the standard of 255 lb. for the clean and 455 lb. for the deadlift, Morgan upped the ante to 275 lb./500 lb., respectively.

Facing a record time of 2.31.47 Morgan ran through the workout in a mere 2.04 and later told IronMind®, "I could have done it with 300 lb. and 600 lb." Take a look at his clip on YouTube and see what you think.

Morgan, who is quick to commend the difficulty of this CrossFit challenge given its demands to be both strong and fit, is no ordinary trainee: Besides being a five-time Commonwealth Games gold medalist in weightlifting and a two-time Olympian in the sport, Morgan's good at a handful of other lifts and has a history of taking on and succeeding at a range of physical challenges.

"I can do that," Morgan is known to say, and once again he's delivered a top performance - just the ticket for the man who's book, like his gym, is called Be Your Best . . . an appealing title proven to be something of a wolf in sheep's clothing.