Dave Brown Certifies on the No. 3 Captains of Crush Gripper
Highland Games pro Dave Brown came by the 2007 Last Chance Seniors Qualifier and Junior Open at Sacramento High School yesterday to watch the lifting and meet Jim Schmitz - as a fringe benefit, he officially closed the No. 3 Captains of Crush® Gripper . . . right and left handed.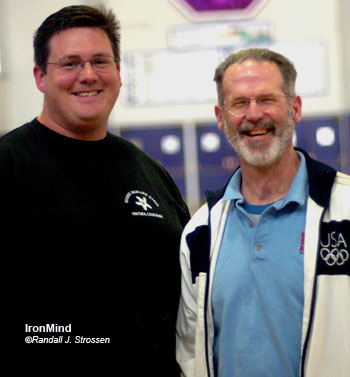 Dave Brown and Jim Schmitz at the PWA weightlifting meet yesterday at Sacramento High School. IronMind® | Randall J. Strossen, Ph.D. photo.

One of the things that has always been unique about Dave Brown is how little he lifts, especially given how strong he is, but when he decided it was time to get serious about his lifting and wanted some expert advice on how snatch, and clean and jerk, who better to ask for help than Jim Schmitz. So Dave came to the PWA weightlifting contest yesterday - where he was quick to praise the lifters that Paul and Kevin Doherty have been developing in their high school programs in Sacramento and San Francisco, respectively.

Dave Brown has long been known for his tremendous hand strength, and over the years we've heard of him not just closing the No. 3 Captains of Crush® Gripper with great regularity, but we've also regarded him as short-list candidate to close the No. 4. as well. When Dave arrived at the Pacific Weightlifting Association meet yesterday, he kindly agreed to give the No. 3 a shot, and he's so relaxed in his approach that at first he wasn't even going to chalk up. With almost zero warmup followed by a clear success on an already-opened No. 3 Captains of Crush® Gripper, Dave earned a shot at doing it officially: A new gripper was opened on the spot and he crushed it, first right-handed, then left-handed, then right-handed again, and again . . . giving his somewhat lame photographer (yours truly) multiple chances to get the required picture.

Recognizing his accomplishment, IronMind® is proud to certify Dave Brown on the No. 3 Captains of Crush® Gripper and we have added his name to the official list.

Way to go Dave!