Daniel McKim, Michael Pockoski Tied for the Lead in the Heavy Events at Pleasanton
Pleasanton, California–After the first day of competition at the 2010 U.S. Invitational Heavy Events Championships, Daniel McKim and Michael Pockoski share the lead on points, with Sean Betz in third place.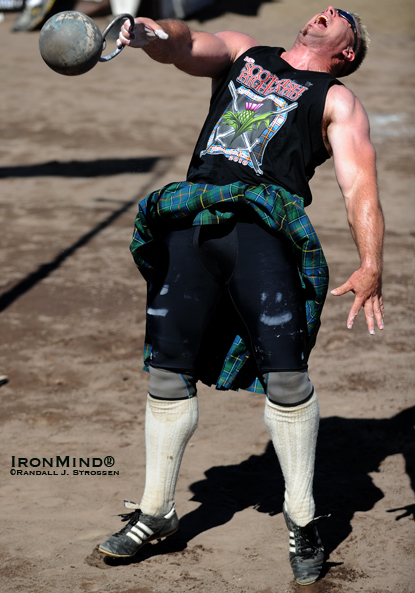 "I'm a freak at my event," Mike Zolkiewicz declared. His event is the 56-lb. weight for height, a classic test of power, and making good on his word, Zolkwiecizc lofted an easy 18-footer today before having three close misses at on a world record attempt of 18' 10". IronMind® | Randall J. Strossen photo.


Fitting for the 145th edition of its Scottish Highland Gathering and Games, Caledonian Club of San Francisco athletic director Steve Conway had predicted a top-flight showing from this weekend's heavies and the close competition in the professional class along with Mike Zolkiewicz's blistering throws in the 56-lb. weight for height have opened things with a bang.

Kicking off the competition, Daniel McKim won the Braemar Stone with a put of 37' 7-1/2", followed by Sean Betz (37' 4-1/2") and Mike Zolkiewicz (35' 5"). The light hammer followed, with Michael Pockoski taking top honors (138' 9"). Sean Betz was second (138' 6") and Daniel McKim was third (135' 7-1/2"). The morning events wrapped up with the 56-lb. weight for distance, which was won by Michael Pockoski with a throw of 44' 9". Sean Betz was second, with a throw of 44' 1", and Daniel McKim was third, with a throw of 43' 3".

Big things were expected in the weight for height as world record holder Mike Zolkiewizc was in the field, along with some others known to punch holes in the sky. Early predictions of big throws proved accurate as Sean Betz hit 17' and after Zolkiewicz nailed an easy 18', he had three strong tries at 18' 10" in an attempt to break the world record.

The IronMind® caber debuted and it proved true to its name as the 21' 132-lb. brute was described by announcer David Webster as being "the toughest in the world this year" and "very similar to the Braemar caber." When nobody turned it, however, "untossable" was added to the description and a smaller stick was brought in—which Harrison Bailey III turned for a 12:00 toss and a win. Daniel McKim was second (12:10) and Hans Llokema was third (11:45).

Here are the official scores at the end of the first day of competiton:
| | | |
| --- | --- | --- |
| 1. | Daniel McKim | 13.0 |
| 2. | Michael Pockoski | 13.0 |
| 3. | Sean Betz | 15.0 |
| 4. | Harrison Bailey III | 22.5 |
| 5. | Mike Zolkiewicz | 23.0 |
| 6. | Larry Brock | 30.0 |
| 7. | Craig Sinclair | 38.0 |
| 8. | Hans Llokema | 40.0 |
| 9. | David Brown | 40.0 |
| 10. | Aaron Neighbour | 40.5 |
The action resumes tomorrow, with the IHGF World Caber Championships, the IHGF World Weight for Height Championships, along with the Invitational Heavy Events Championships.

###


Want to talk strength? Join the IronMind Forum!

You can also follow IronMind on Twitter.