Daniel Graupner Certifies on the Red Nail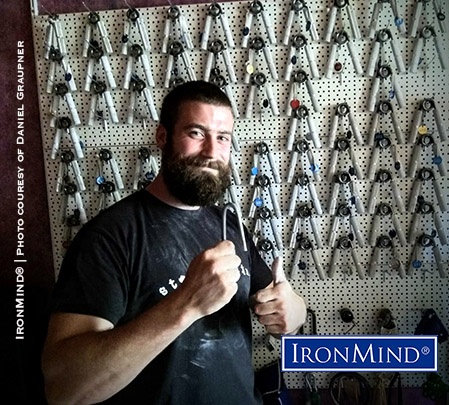 Daniel Graupner bent the IronMind Red Nail under official conditions, a major milestone in the worlds of lower arm strength and steel bending.

"I'm proud of my successful certification for the Red Nail Roster," Daniel Graupner told IronMind, whose thumbnail sketch of himself was: "self-employed, Dog-Daddy, love being outdoors.

"I'm 28 yrs old from Abensberg, Germany, and am the co-owner of our family's tile-laying business. I weigh 86kg at 182cm height.


"I love being outdoors, spending time with my family and my dog. My next goals in bending are a 9mm/7" Nail and a Red Nail in a single IronMind Pad. Besides my bending goals I'm looking forward to gain more overall strength and taking on the Crushed-to-Dust Challenge in 2019.


"My stressful work schedule mostly demands training at 5 am, so the workouts have to be short. I'm trying to get 2xBending/2xGrip Srength/2xWhole Body Strength Training/1xMMA done during the week. Most of the time i train everything separately but from time to time i have to improvise," said Graupner.

Congratulations, Daniel—your certification is complete and you name is now included on the Red Nail Roster. IronMind would like to extend our special thanks to Jörg Keilbach for refereeing Daniel's official attempt.

                                               ###



You can also follow IronMind on Twitter, Instagram and on Facebook.                      


Want to talk grip, strongman, weightlifting . . . everything strength? Visit the IronMind Forum.