Dan McKim Wins in Hank, Announces Retirement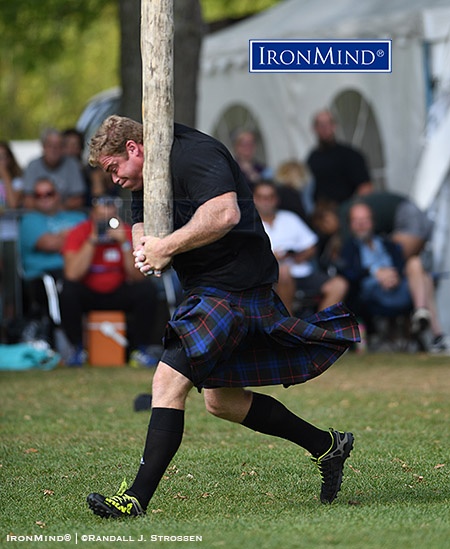 Hank, Holland–Highland Games ace Dan McKim (USA) added another major title to his massive collection as he won his fourth Webster Heavy Events World Championships, and then announced his retirement.


Dan McKim: World Champion Highland Games Athlete Threw and Through
by Elizabeth Hammond
IronMind Enterprises, Inc.

It was a bittersweet victory for Dan McKim (USA), who captured the David Webster's World Heavy Events Championships—and announced his retirement from the Highland Games. 

Dan McKim (USA) won heavy hammer, 56-lb. weight for height, the caber, and the overall title at the David Webster Heavy Events World Championships in Hank, Holland.

The many-times world champion shed tears as referee Dr. Bill Crawford spoke of how this modest and gracious competitor will be greatly missed—and presented him with a specially designed clock showing him in a moment of victory, arms in the air, and inscribed with his catchword, "Believe." 



Showing his ever-present good-natured yet winning spirit over the two days, McKim won the first event, the Heavy Hammer with 35.89 m, acing Vlad Tulacek (Czech Republic) at 35.14 and Scott Rider (England) at 35.05. 



He was then tied with Rider on 4 points after the second event, the light weight for distance, where Rider took the field with 25.91 m to McKim's third-place 24.88—but regained the frontrunner's spot in the Braemar stone, taking third at 13.03 m to Rider's sixth-place 12.32 m. 



The two stayed in the one-two position throughout the contest, finishing with McKim at 19 and Rider 27. Third through fifth place changed hands among Lorne Colthart (Scotland), who was first in the light hammer with 42.87 m; Spencer Tyler (USA), who won the heavy weight for distance with 13.64 m; and Vlad Tulacek, who took both the Braemar and open stones (14.13 m and 17.68 m), with Tyler coming in third, Tulacek fourth, and Colthart fifth. 



Newly crowned Dutch champion Pieter Karst Bouma distinguished himself as one of only two heavies (along with McKim) to turn the caber, although McKim edged him for the win.



The well-organized games were warmly hosted by the Dutch and Belgium Highland Games Federation, under the leadership of Tommy de Bruijn (Belgium) and Wulbert Stam (Netherlands) and their capable team, and energetically announced by the renowned Highland games and strongman champion and former world record holder in the weight over bar Wout Zijlstra, who kibitzed with the crowd and kept them fully engaged.


                                                                  ###



Follow IronMind on Twitter, Instagram and on Facebook.


Want to talk strength? Visit the IronMind Forum: Strongman, grip, Highland Games, Olympic lifting, stones and more.