Dan McKim Seeks 5th Consecutive Title at Pleasanton
As a signature element in its 149th Scottish Gathering and Games, the Caledonian Club of San Francisco will be showcasing many of the world's top heavy events competitors in the U.S. Invitational Championships, including four-time winner Dan McKim.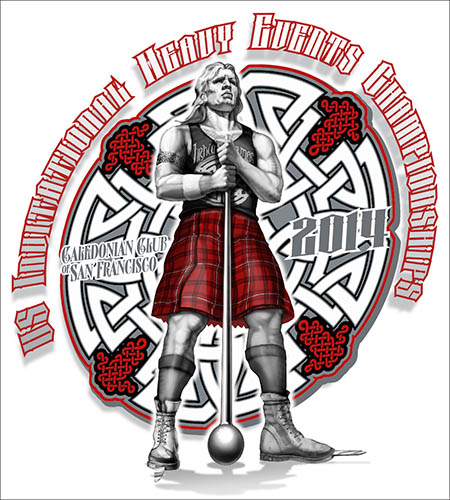 The 2014 US Heavy Events Invitational will feature a bid by Dan McKim to win his fifth consecutive title at the 40th anniversary of this competition. IronMind® | Artwork courtesy of the Steve Conway/Caledonian Club of San Francisco


"The question is can anyone unseat current champion Dan McKim?," said Athletic Director Steve Conway. "He will be going for his 5th straight U.S. Championship—superstars Jim McGoldrick and Ryan Vierra have both won 6 but only the great Matt Sandford has won 5 in a row.

"Dan has been taking his game to even greater levels this year, setting two new world records in the Scottish hammers as well as a new North American record in the 28-lb. weight for distance. Matt Vincent, the 2012 World Champion, has come close to beating Dan this year, but it will take a Herculean effort to stop him from repeating as champion. 



"Also in the fight are some of the best that the world of Highland Games has to offer. Scottish Champion Craig Sinclair will be strong in hammers and the weights for distance. Mike Zolkiewicz has owned the weight for height the last few years at Pleasanton and I would guess that this year we'll see him attempt to push his world record even higher. British Champion and SGA World Champion Scott Rider can always be counted on to finish in the top, his caber and open stone are particularly strong. Matt's brother, Andy Vincent, is a powerful competitor across the board and Jake Sullivan will no doubt make his presence known as well.

"Poland's Sebastian Wenta, former World's Strongest Man competitor and world caber champion, is someone to look for in the Braemar stone and of course the caber. Another strongman, Jeremy Hogg from New Zealand, will make his debut at Pleasanton; he's kind of an unknown factor and may surprise some people. 



"Two other athletes, new pros Jeff Kaste, last year's Amateur U.S. Champion,and Nick Kahanic, world record holder in the open stone, will see what it's like competing with the "Big Boys" at Pleasanton.

"Rounding out the competition is Sean Betz. Sean is making his final appearance at Pleasanton after more than 15 years as a pro. He embodies everything that makes a great competitor; always gives 100 %, steady, polite, helpful and tough to beat. A true champion, we will miss him here at Pleasanton!"

Official Lineup
Matt Vincent- USA
Dan McKim- USA
Andy Vincent- USA
Jake Sullivan- USA
Jeff Kaste- USA
Nick Kahanic- USA
Sean Betz- USA
Mike Zolkiewicz- USA
Jeremy Hogg- New Zealand
Sebastian Wenta- Poland
Craig Sinclair- Scotland
Scott Rider- England
For full details, please visit http://www.caledonian.org.

###



Want to talk strength? Join the IronMind Forum.

You can also follow IronMind on Twitter and on Facebook.