Dan McKim Doubles at Pleasanton
2011 Highland Games world champion Dan McKim (USA) notched two big victories in Pleasanton, California this weekend as he overwhelmed the field in the professional class heavy events competition at the 147th Highland Games & Gathering presented by the Caledonian Club of San Francisco, and then added another victory for good measure.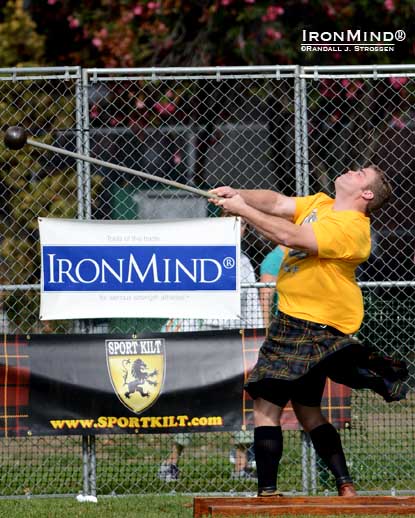 Tell it goodbye: Dan McKim won both hammers, but it was his consistency across events that nailed his overall individual victory in Pleasanton, California at one of the world's largest and most prestigious Highland Games competitions. IronMind® | Randall J. Strossen photo.


Not content to win the individual title after beating his nearest rival (Sebastian Wenta) by 16 points, McKim (with Jon O'Neil) also bagged the 2012 IHGF World Highland Games Team Championships—nudging Sebastian and Lucas Wenta by two points. No need for him to feel like a bridesmaid, though, because Sebastian Wenta won the 2012 IHGF World Caber Championships.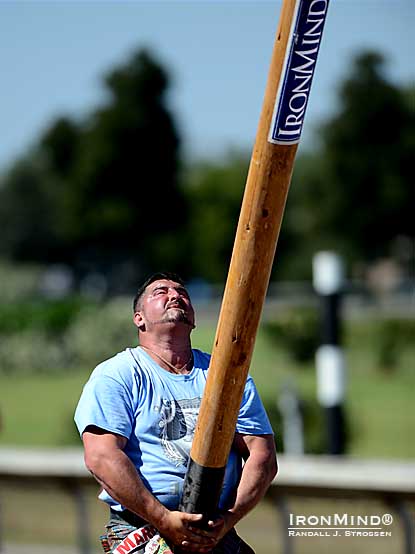 Sebastian Wenta (Poland) was second in the individual competition, second (along with his brother, Lucas) in the team competition, but he reigned supreme in the caber. Even the mighty former World's Strongest Man competitor could not turn the big IronMind caber, so a smaller stick was brought in for rounds two and three. If it was beyond the 2012 IHGF World Caber Champion, who will be the first man to turn the big IronMind caber? IronMind® | Randall J. Strossen photo.


Other highlights from the weekend included Mike Zolkiewicz setting a new field record in the 56-lb. weight for height with a (standing) throw of 18' 2". Zolkiewicz also won the 2012 IHGF World Weight Over the Bar Championships the next day, with a throw of 17' 6".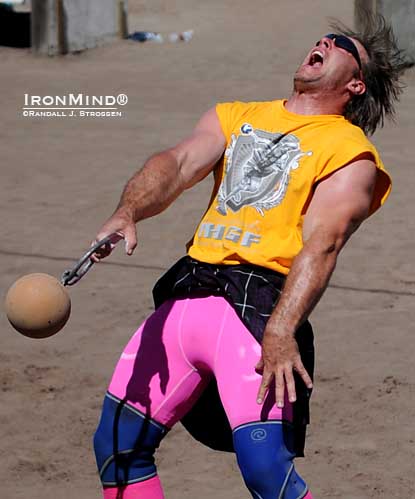 Think you're way up there on the explosive chart, but things like the snatch or even the clean are too technical to allow you to prove your point? Grab a 56-lb. weight see how high you can throw it and if you're the real deal you'll break 18 ft. like Mike Zolkiewicz. Pink power. IronMind® | Randall J. Strossen photo.


Another terrrifc weekend in Pleasanton: Watch for the full contest report in MILO.

###



Visit the IronMind Forum: talk strength, discuss this story. Strongman, grip, Highland Games, Olympic lifting, stones and more.

You can also follow IronMind on Twitter.