Dan McKim Bags Longs Peak Highland Games
Dan McKim rocks on in the Highland Games world, as he bagged the 2014 Longs Peak Highland Games title in Estes Park, Colorado; Francis Brebner reported on the action for IronMind.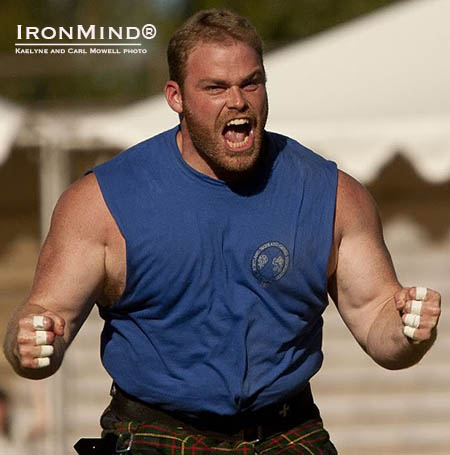 An exultant Dan McKim celebrates another Highland Games victory as he added the Longs Peak title to his collection of victories in 2014. IronMind® | Kaelyne and Carl Mowell photo



2014 Longs Peak Highland Games
by Francis Brebner
CEO, IHGF

Dan McKim, fresh from winning the 2014 U.S. Invitational Heavy Events Championships, took top honors once again at the Long Peak Scottish-Irish Festival this past weekend in Estes Park, Colorado. Matt Doherty, Canada, put up a notable all-round performance to claim second place overall.



Twelve top pro heavy athletes made up the field, including USA's McKim, Matt Vincent, Sean Betz, Dan Williams, Jake Sullivan, Ryan Stewart, Nathan Burchett, Jon O'Neil, Jeff Kaste, and Spencer Tyler; Canada's Doherty; and Belgium's Jimmy van de Walle.
Tyler won the first event with the 22-lb. Braemar stone with a dominant putt of 42' 3-1/4", followed by Doherty in second at 41' 8-1/2" and McKim in third at 40' 7-1/2".

The 16-lb. open stone was a tight tussle between McKim and Doherty, with McKim edging out Doherty for with a distance of 54' 8-1/4" to Doherty's 54' 7-1/4". Vincent was third with a best of 53' 8-1/2".

In the 56-lb. weight for distance, Jake Sullivan showed his strength in his favored event with a mighty throw of 45' 8". Later with extra attempts, he nudged up this mark to a whopping 48' 8-1/2". McKim was second at 44' 6" and Vincent third at 44' 1/2".

The 28-lb. weight for distance was another world class win for Sullivan at a distance of 89' 10-1/4". A tight group of three athletes over 84' were sorted out with Vincent second at 84' 9-3/4", Tyler third at 84' 4-3/4" and McKim fourth at 84' 3-1/4".

In the hammers, McKim, who is currently number one in the world and who this year already set two new world records in both hammers—132' 2-3/4" in the light hammer and 157' 7-1/4" in the heavy—took the wins easily. In the 22-lb. hammer McKim threw 119' 6-1/2", with Doherty at 115' 9-1/2" for second and Sullivan at 112' 7-3/4" for third.

In the 16-lb. hammer, McKim was in a realm of his own as he let fly with a magnificent throw just shy of 150', a best of 149' 5". Second place was a battle all the way with Doherty holding on until the last round with a best of 141', which ended up placing him fourth. Both Sullivan and Vincent upped the ante in their final attempts with Sullivan clinching second place at 142' 8-1/2" and Vincent just inches behind at 142' 4" for third.

The caber was 21' 2" long and 106-lb. in weight and was won by Burchett with a perfect 12:00 toss. Second was McKim with 11:55 and third Stewart with 12:20.

Burchett dominated the 20-lb. sheaf toss at height of 34'; second was a tie between McKim and Vincent at 30'.
The final event, the 56-lb. weight over the bar, was epic to say the least as three athletes succeeded at the final world class height of 17'. On countback, Williams was the victor with fewer misses, with McKim second and Doherty third.

Final Scores
1. Dan McKim 8795

2. Matt Doherty 8580
3. Matt Vincent 8579
4. Nathan Burchett 8224
5. Spencer Tyler 8106

6. Jeff Kaste 7845

7. Sean Betz 7785
8. Ryan Stewart 7678
9. Jake Sullivan 7675
10. Jon O'Neil 7558

11. Jimmy Van De Walle 7425 

12. Dan Williams 6218

Asking McKim about the event on a whole he said, "As always, [it was] an amazing and supportive crowd that pushed us all throughout the day as it was a close battle for the overall. It's hard to beat throwing at the foot of one of God's greatest creations, the Rocky Mountains!"



###

Want to talk strength? Join the IronMind Forum.

You can also follow IronMind on Twitter and on Facebook.