Dan Corsi Certifies on the Captains of Crush No. 3 Gripper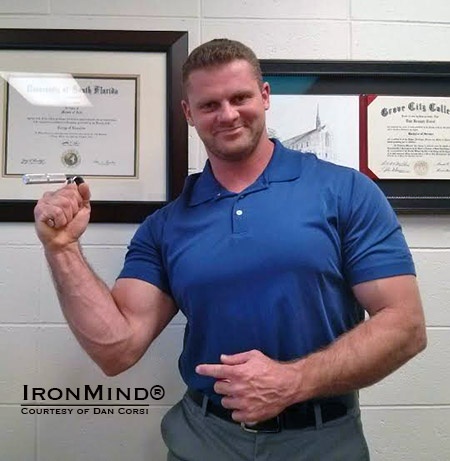 It's a family thing and Dan Corsi has enriched their grip strength legacy: he has just been certified on the Captains of Crush No. 3 gripper.



"I am an assistant professor of physical education at Erskine College, located in Due West, South Carolina," Dan told IronMind.  "My interest in the Captains of Crush grippers began when I was 20 years old when I had a chance to try them at the Arnold Classic and I was about 1/4 inch shy at the most.  

"This past Christmas (13 years later) I received the No. 3 gripper as a gift and this renewed my interest in the grippers and because I was so close to closing it from the get go, I decided to specifically train my hands and forearms to complete the No. 3 gripper.  
"I have been spending one day per week doing a few specific forearm and grip training exercises in the gym.  I would also complete 1 or 2 reps with the No. 3 with help if needed and hold the negative about 2-3 times per week.  
"I am now planning to progress to the [Captains of Crush] No. 3.5 and perhaps the No. 4.  I have never attempted either so right now it's hard to say how much time I will need.  
"My father, uncles, and my grandfather have always had a fascination with grip strength. My grandfather passed away 20 years ago, but I have been told that he was able to rip 2 decks of cards at the same time," said Dan.
Dan did his family proud because when he squared off with the Captains of Crush No. 3 gripper on his official attempt to close it, he referee,Glenn McAtee, told IronMind, "He smoked it."
Many thanks for refereeing, Glenn, and congratulations, Dan—it's official: you have just been certified on the Captains of Crush No. 3 gripper.

                                                       ###



Want to talk strength?  Join the IronMind Forum. 

You can also follow IronMind on Twitter and on Facebook.