Dainis Zageris Wins SCL Portugal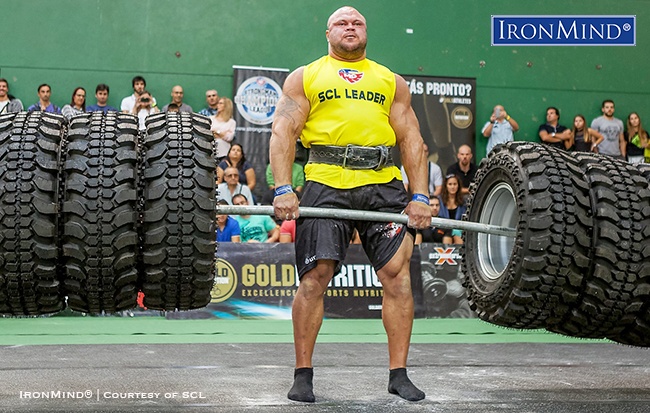 "The leader in the MLO Strongman Champions League, Dainis Zageris (aka TITAN), won SCL Portugal last weekend, one 1 point ahead of the "Polish Power" Krzysztof Radzikowki," Marcel Mostert reported to IronMind.

This was a nice reversal of fortunes for Zageris, as he had lost the previous stage, SCL Curacao, by one point.

"The new number 1 on the Spanish strongman scene,  Roberto Rodriquez, surprised many with a 3rd place overall, on the same points as Matjaz Belsak from Slovenia, Mostert continued.

"Roberto even won the first 2 events in this tight and hard battle with 3 equal final placings of other athletes.


"Also, there were  2 newcomers where in the SCL Portugal: Topi Ovaska from Finland and Renato Soares from Portugal. They did well and got a great experience, in the old school of Strongman.

"The new Finn is a big guy who only needs some more experience, same as Sean O'Hagan , the biggest Strongman in the World, who ended in the top 6 here.

"The big Tyre deadlift for reps with 390 kg was also a great event, especially without the power suits, which are banned in SCL now—we still have fantastic results. Dainis Zageris and Krzysztof Radzikowski both made 11 reps, for the win.

"
Many thanks here also to Nuno and Angelina Araujo, who did an outstanding job at by organizing the Power Expo in Porto and the professional Strongman within.
 
Top 10 Results
| | | | |
| --- | --- | --- | --- |
| 1. | Dainis Zageris | Latvia | 54.0 |
| 2. | Krzysztof Radzikowski | Poland | 53.0 |
| 3. | Roberto Rodrigues | Spain | 47.5 |
| 4. | Matjaz Belsak | Slovenia | 47.5 |
| 5. | Marcos Ferrari | Brasil | 36.5 |
| 6. | Sean O'Hagan | Ireland | 36.5 |
| 7. | Aurelien Le Jeune | France | 23.5 |
| 8. | Fabio Silva | Portugal | 20.0 |
| 9. | Topi Ovaska | Finland | 17.0 |
| 10. | Renato Soares | Portugal | 16.5 |
 
"Dainis Zageris is still leading the MLO Strongman champions League, with Matjaz Belsak and Krzysztof Radzikowski following on 2nd and 3rd place, respectively. 


"It will be a great battle in Dubai, for the finals , where also JF Caron and the strong American Eric Dawson will enter the stage. Keep following us on our website, Facebook and of course on IronMind, who will also be an official sponsor in Dubai," said Mostert.
 
                                       ###



You can also follow IronMind on Twitter and on Facebook.                       



Want to talk grip, strongman, weightlifting . . . everything strength? Visit the IronMind Forum.