Crushed-To-Dust! Challenge, Strongman, Grip Strength and Strongman Combat at the LA FitExpo
This Saturday, top strongman competitors will be sending shockwaves through the Los Angeles FitExpo as they square off with six massive challenges, and as an audience participation special, the IronMind Crushed-To-Dust! Challenge will be run in between strongman events—draw a little inspiration from a field that includes World's Strongman Man competitors and show that they're not the only guys who have a grip to be reckoned with.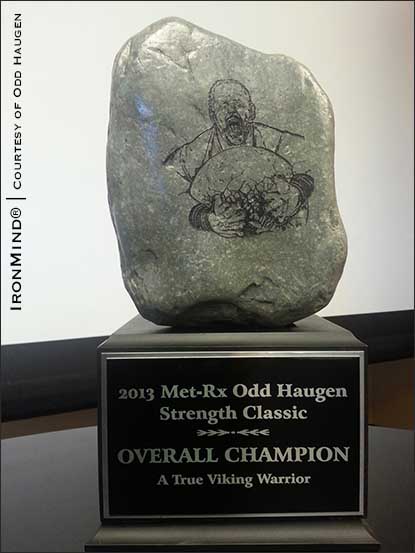 Who's the baddest dude, overall, from the strongman, grip and strongman combat contests at the LA FitExpo this weekend? This is the special trophy he'll win, along with a pocketful of cash. IronMind® | Image courtesy of Odd Haugen.


The first strongman event—Giant Tire Flips— begins at 10:30 and from noon on, a new strongman event starts on the hour, and anyone who would like to try the Crushed-To-Dust! Challenge will have a chance in between the strongman events, with certification going to all who are successful. So get inspired by guys who have competed at the World's Strongest Man contest and make a mark of your own this Saturday.

Sunday, the world records in three of the grip strength world's most prestigious events will face intense pressure as guys who can practically crack coconuts in their bare hands attack the Apollon's Axle Double Overhand Deadlift, the Rolling Thunder and the CoC Silver Bullet Hold, along with a Iron Grip Pinch Grip Medley, Viking Fishing Pole Wrist Roller and Inch Dumbbell Duel. Want to see guys who can close a Captains of Crush (CoC) No. 3 gripper with ease? Be there.

And just to make sure that you're on the edge of your seat on Sunday, Odd Haugen is introducing a new contest this year—strongman combat—so if you've never seen events like Mas wrestling or the Pole Push, here's your chance.



### 



The IronMind Forum: discuss this article, talk strength, get help with your training.

You can also follow IronMind on Twitter.