Crowd Flips Over Chinese Weightlifting Stars
After serving up a light appetizer on Saturday, China's Olympic gold medalists Shi Zhiyong and Zhang Guozheng came back on Sunday and lit up the main expo hall at the Arnold Fitness Weekend.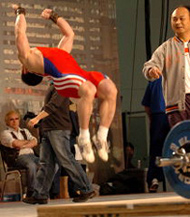 Shi Zhiyong (China) capped off his performance with a back flip, as coach Chen Wenbin looks on. IronMind® | Randall J. Strossen, Ph.D. photo.
On Saturday, the two star weightlifters ran through some snatches, whetting everyone's appetite for more, and that's what they got on Sunday, when the two guest lifters ran through a series of clean and jerks - both lifters are squat jerkers, something that is still quite unusual even at the highest levels of competition and is almost never seen in the US.

Shi Zhiyong is not a good example of the idea that lifting makes you stiff, or that weightlifters are not athletic, or even the idea that little men only lift little weights: The 62-kg lifter has jerked 205 kg from the rack.