CrossFit in San Diego This Weekend
CrossFit - a potent strength and conditioning program - is doing something special in San Diego this weekend, so if you're in the area, plan to stop by.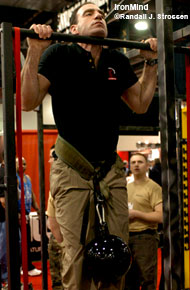 At the 2004 Arnold, Jeff Martone casually knocked off this pull-up with an extra 96 pounds for Randall Strossen, if we are reading the good doctor's notoriously-scribbled notes correctly. Come to the CrossFit San Diego Seminar this Saturday and Sunday, and meet Jeff in person. IronMind® | Randall J. Strossen, Ph.D. photo.

San Diego CrossFit affiliate Tony Budding said he is hosting a unique seminar at his facility this weekend - it's set up "like a tradeshow, but instead of vendors hawking wares, we'll have coaches training in their area of specialization," Budding explained. "The presenters will set up in their area and everyone will wander around as they see fit (pun intended). Participants aren't guaranteed any particular kind of training or learning, but will have access to arguably the best collection of fitness coaches in modern history."

For details, please check the CrossFit homepage.