CrossFit Games This Weekend: Survival of the Fittest, Fun for All
"Our workouts are competitive events," says CrossFit co-founder and CEO Greg Glassman, so here you go, the second annual CrossFit Games give competitors and spectators a chance to have a great time in Aromas, California, July 5 - 6.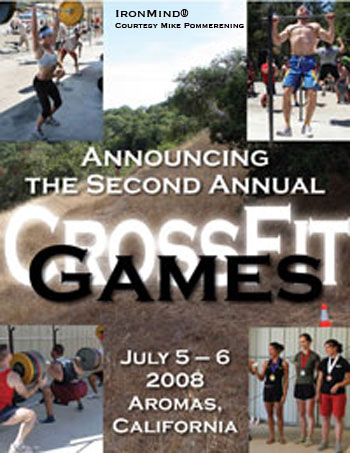 The fittest of the CrossFitters: See them in action at the CrossFit Games this weekend. IronMind® | Artwork courtesy of Michael Pommerening/CrossFit.

IronMind® will be attending the 2008 CrossFit Games on Saturday, July 5, with a pile of grip tools and a set of Vulcan Racks for competitors and spectators alike who want to try their hand.

Ever lifted a Blob? Just how tough is a No. 3 Captains of Crush® Gripper? Is the Inch Challenge DB really a challenge? In the absence of GNC Grip Gauntlet host Wade Gillingham - who stands around casually holding the Blob in one hand and clicking a No. 2 or No. 3 Captains of Crush® Gripper with the other - we're opening it up to all comers to provide the big lifts and mighty clicks.

IronMind® will also have a set of genuine Vulcan Racks™ for anyone who wants to try some squats, dips or chins (in case you missed your workout that morning) and the lucky winner of our free drawing will take home the Vulcan Racks™ Squat Racks at the end of the afternoon - you can take them home just in time for your next workout.

While all the competitor slots are filled, spectators can still get tickets. For full details, please visit CrossFit Games or contact Mike Pommerening at mike@crossfitgames.com.

See you at the CrossFit Games in Aromas, California, on Saturday!