Craig Sinclair Wins the 2011 Drumtochty Highland Games
Craig Sinclair won the Drumtochty Highland Games this weekend, the fourth competition in the Glenfiddich Grampian Highland Games series.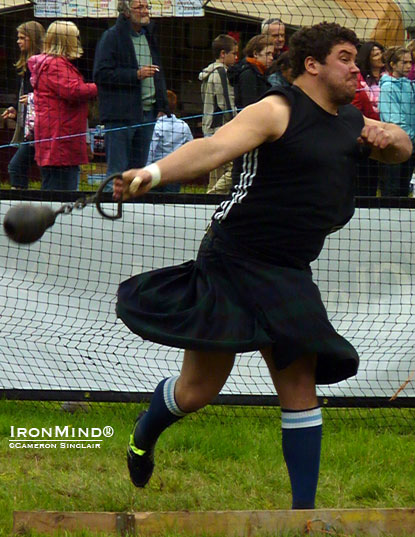 Sinclair Patience on the 28-weight for distance at the Drumtochty Highland Games. Cameron Sinclair photo.



2011 Drumtochty Highland Games
by Francis Brebner

The Drumtochty Highland Games held this past weekend in Scotland was the fourth Games in Glenfiddich Grampian Games League series of twelve held throughout the northeast of Scotland, and about twenty-five hundred spectators enjoyed the fun and festivities. The Games were officially opened by Chieftain Peter Nicol, the Grampian Highland Games secretary for the last twenty-five years.

Eight top heavy athletes, including local hero Bruce Aitken, joined by Bruce Robb, Craig Sinclair, Sinclair Patience, Lorne Colthart, Steven King, Stuart Anderson and John MacLeod, turned out for this event.

As is customary, the Drumtochty Games started the program with the 16-lb. hammer, which was won with a dazzling display by Sinclair, who made a dominating throw of 137' 8". King was second with 133' 8" and Aitken third with 131' 7".

The 22-lb. hammer again was a clear victory once again for Sinclair, who won with a distance of 114' 2". In second place this time was Aitken at 110' 5" and King took third at 109' 3".

The 16-lb. open stone was a slugfest between the top four athletes, with Robb coming out on top with a winning of 46' 11". Mere inches behind in second place was Patience with a put of 46' 9", followed by Colthart in third with 46' 3".

The 22-lb. open stone was also a very tight contest, and Robb nailed the winning put of 39' 4". In second place was Colthart with 38' 5" and in third was Patience at 38' 1".

The 28-lb. weight-for-distance was an exciting event, with Patience producing a world-class throw of 90' 1", just 16" short of the ground record held by Geoff Capes. Sinclair also threw a world-class distance of 86' 1" for second, with Robb in third place with 84'.

The caber toss, featuring a caber 18' long and 135 lb., was won by Robb's 1:50 turn. Sinclair and Colthart tied for second place with 2:10, leaving King in fourth with an 80-degree attempt.

As is often the case, the 56-lb. weight-over-bar was the deciding event for the overall victory between Sinclair and Robb, who ended in a tie at a height of 14' 6". Third place was a five-way tie at 13' 6" between Aitken, MacLeod, Colthart, Patience and King.

The standard of throwing in Scotland is clearly on the rise with the young blood in the sport and it will be interesting to see how they improve over the next few years. Many thanks go especially to Glenfiddich for supporting the groundwork for these young talented athletes in the junior league.

Drumtochty points:
| | | |
| --- | --- | --- |
| 1. | Craig Sinclair | 32.0 |
| | Bruce Robb | 32.0 |
| 3. | Sinclair Patience | 121.5 |
| 4. | Lorne Colhart | 19.5 |
Glenfiddich League points after 4 of 12 Games:
| | | |
| --- | --- | --- |
| 1. | Craig Sinclair | 128.5 |
| 2. | Bruce Robb | 122.5 |
| 3. | Sinclair Patience | 98.5 |
| 4. | Bruce Aitken | 76.5 |
###



The IronMind Forum: discuss this article, talk strength, get help with your training.

You can also follow IronMind on Twitter.