Craig Call Certifies on the No. 3 Captains of Crush® Gripper
Congratulations to Craig Call, who has just been certified on the No. 3 Captains of Crush® Gripper—he "crushed the No. 3 easily," his official referee, Howard Liviskie, reported to IronMind®.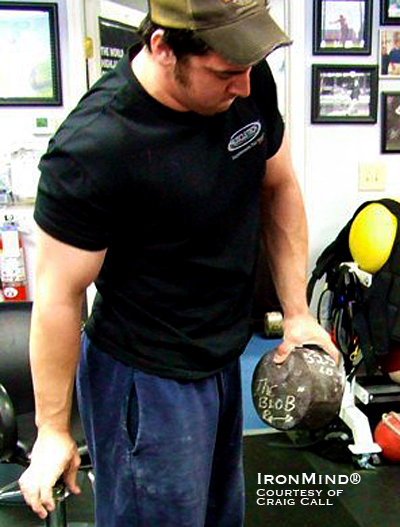 Craig Call has proven that he has world class grip strength, just certifying on the Captains of Crush® (CoC) No. 3 gripper and shown here hoisting Richard Sorin's " original blob to full lockout" at Sorinex. IronMind® | Courtesy of Craig Call.

Craig is 20 years old and the 6' 2" 250-lb. Ashland University (Ashland, Ohio) hammer thrower and shot putter is coached by no less than 4-time Olympian Jud Logan.

"My grip training has had a direct positive influence on my throwing and lifting numbers," Craig Call said. "I have successfully credit card closed the #3.5 in training and look to certify on it in the future. I would like to thank my teammates, family, girlfriend Jayne, and coaches for all of their positive support and enthusiasm. A special thanks goes out to judge Howard Liviskie for donating his free time make my certification attempt a success."

IronMind® would like to echo Craig's appreciation for Howard Liviskie's help serving as the official referee for this attempt.

"I was very impressed by Craig's hand strength," Howard Liviskie told IronMind®, "but I was more impressed by his energy and his very apparent love for strength training and grip strength. I would also like to say that Craig and his teammates and coach who were there to cheer Craig on were very polite and respectful to me. I was honored to be trusted with this import event by both IronMind® and Craig, and would gladly do it again if needed."

IronMind® is proud to recognize Craig Call's accomplishment and his name has been added to the official certification list for the No. 3 Captains of Crush® Gripper.

###

Want to talk strength? Join the IronMind Forum!

You can also follow IronMind on Twitter.