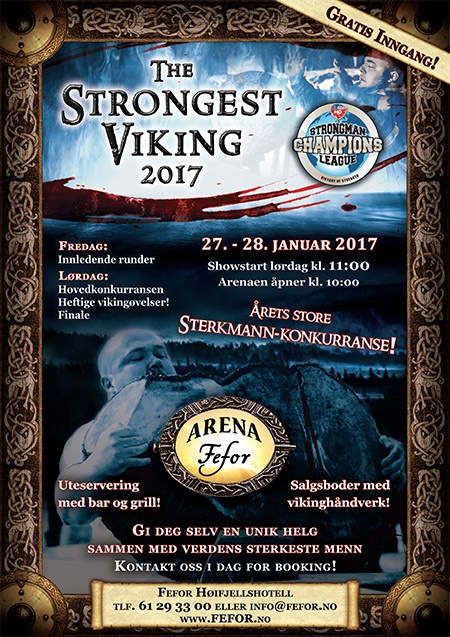 Two days out from the kickoff of MLO Strongman Champion's League 2017 season and Kikki Berli-Johnsen set the stage for IronMind.

SCL Norway – The Strongest Viking 2017

by Kikki Berli-Johnsen

With two days to go until the first event of SCL Norway – The Strongest Viking 2017 starts, the athletes are getting more and more nervous. Will Bjorn Andre turn out as one of the best forward hold athletes again, will Luke Herrick handle the cold all the way from USA? And can the atlas stones be done again in this extreme weather?

Only the strongest will survive. 

Friday January 27th is the first day of this spectacular competition in the Norwegian mountains. First event will be held Friday night, and the arena will – like the last two years – have a Viking theme. Bonfires and vikings will surround the athletes when they start with front hold. Maybe there will be snow and hard wind like last year?

Saturday is the big competition day, and right now it seems like the athletes must compete in -10 degrees/14F and partly sunny weather. That's much better weather than during last year's competition, so this will be good for both athletes and audience. 

This is the first of 16 stages of the MLO Strongman Champions League 2017. This is the 10th year in SCL history, so it will be very interesting to see who will be the new world champion in this milestone year.

The complete SCL "World Series "is going to be broadcast in 95 countries all over the world, including the USA and Japan, this year. Also a few new countries will be included in the SCL tour in 2017.

The show can also be followed live at Saturday 28 January 13.30 at www.strongmanworldserieslive.com, complete with 190 hours of more strongman movies.

                                  ###



You can also follow IronMind on Twitter and on Facebook.                        



Want to talk grip, strongman, weightlifting . . . everything strength? Visit the IronMind Forum.