Costa Mesa Highland Games: Dan McKim Wins the Pros
Southern California isn't just for surfing as the Costa Mesa Highland Games proved yet again as Dan McKim won top honors among a stellar pro field and Vern Alexander rewrote the masters world record book.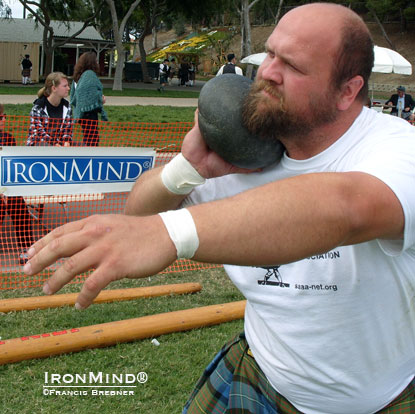 Rusty Price, Twice World Stone Putting champion, on the Open Stone. IronMind® | Francis Brebner photo.


2011 Costa Mesa Highland Games
by Francis Brebner

The Costa Mesa Highland Games in Southern California this past weekend attracted bumper crowds of more than 30,000 spectators over its two days of festivities and sporting events. More than 80 athletes turned out to compete in the sunny, tropical weather, which was just perfect for the big numbers thrown and the world records set in the master's division.

Seven top athletes made up the field in the professional division: Mike Pockoski, Sean Betz, Ryan Vierra, Rusty Price, Harrison Bailey, Dan McKim, and the new kid on the block, big Dan Williams.

The first event, the 23-lb. Braemar stone, got underway, and Price, who had been training hard this past winter under the guidance of his mentor Vierra, was definitely in the zone. Twice World Stone Putting champion, Price won this event easily with a distance of 41' 7-1/2". In second place was McKim with 40' 1-1/2", and in third, Betz at 39".

In the 56-lb. weight for distance, nearly all the pro athletes went over 40', with Williams nailing a winning throw of 45' 7". Price took second at 43' 10-1/2" and McKim third with 43' 7".

The next event, the 16-lb. hammer, was very close between Pockoski and McKim: Pockoski came out on top with a throw of 136' 4-1/2", with McKim settling for second place with 134' 5-1/4" and Betz taking third at 132' 7".

In the 22-lb. hammer, it was all-out between McKim and Pockoski, with McKim forging ahead with 112' 6-1/4". In second this time was Pockoski at with 112' 1", and in third, Betz at 109'.

At this point, the SAA introduced its multi-caber tossing attempt: the most cabers ever to be tossed at any one time. Last year 21 cabers were tossed simultaneously by 21 athletes. This year's attempt was done by 30 athletes, who set a new world record and was a sight to behold—and a smash hit for the thousands of spectators watching.

The competition caber, which was 18' 10" long and 107 lb., proved to be an easy caber to turn and it ended in a shoot-out between three athletes, who each nailed 12:00. Betz won on countback, followed by Williams in second place and Price in third.

The final event of the first day was the 56-lb. weight over the bar. Nearly all athletes used the spinning technique, with McKim the only pro using the traditional standing style of throwing. Betz spun and won with a clearance of 18', with McKim thrilling the crowds with a world-class standing throw of 17' for second place. Third place was a tie between Pockoski and Price at 17' via the spinning method.

Day two of the Costa Mesa Highland Games resumed with the 16-lb. open stone, which was won by Price, clearly in a league of his own, with a superb distance of 55' 5". Betz was in second place with 51' 2-1/2", and McKim was in third place with 50' 6".

The 28-lb. weight for distance was an exciting event, with the lead changing hands several times until McKim delivered a personal best throw of 85' 5". Vierra took second place with 83' 2-1/2" and Betz third with 82' 4-1/2".

The 20-lb. sheaf toss turned out a real slugfest between Bailey, Betz, and McKim, who each cleared 32'. McKim won on countback, with Bailey taking second and Betz third.

The final event with the challenge caber, which was boasted to be the biggest in the country at 17' 2" long and 167-lb., proved a real challenge for many of the world's best athletes. McKim, the current IHGF World Caber champion, looked like Samson from the Bible as he supernaturally made easy work of this caber with three successful tosses, including a 12:00. In second place was Pockoski with 9:45 and in third, Vierra with 85 degrees.

Overall placings:
| | | |
| --- | --- | --- |
| 1. | Dan McKim | 21.0 |
| 2. | Sean Betz | 27.0 |
| 3. | Rusty Price | 30.0 |
| 4. | Mike Pockoski | 37.0 |
| 5. | Dan Williams | 44.0 |
| 6. | Ryan Vierra | 46.0 |
| 7. | Harrison Bailey III | 49.0 |
Special recognition must be given to Vern Alexander in the masters 70+ division. He produced three world records during Sunday's Games: 32' 3-3/4" in the 42-lb. weight for distance; 20' 1" in the 16-lb. sheaf toss; and 12' 1" in the 42-lb. weight over bar.

Asking Vern how he felt after achieving three world records in one day, he said, "I just can't take it in. I am so happy."

As to any special training he has been doing leading up to the Games, Vern said that he has been working a lot in his large garden, building stone walls by hand and also laying brick, which require a lot of bending and stretching; he noted, "I think this might have helped me in my efforts here today."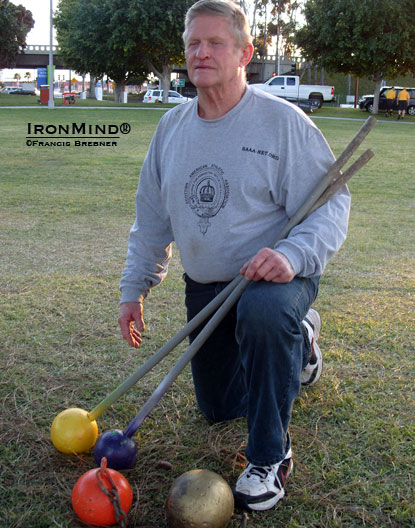 Vern Alexander hammered the masters world records at the Costa Mesa Highland Games. IronMind® | Francis Brebner photo.

###



The IronMind Forum: discuss this article, talk strength, get help with your training.

You can also follow IronMind on Twitter.