Correcting Press-Out: Jim Schmitz on the Lifts
Whether snatching or jerking, the rules of weightlifting require that the arms move to full extension—and stay there—when the bar is being held overhead: press-out is the familiar name for breaking this rule and it's the cause of anguish, anger and confusion—not to mention medals won or lost.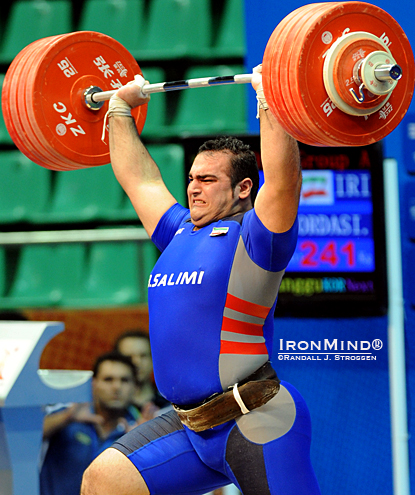 Even if Behdad Salimi (Iran) had managed to straighten out his arms again and hold the bar overhead, this jerk would have been red lighted for press-out. IronMind® | Randall J. Strossen photo.


Olympic weightlifting coach Jim Schmitz takes on press-out in his latest article for IronMind: explaining what it is and recommending ways to correct the problem.

At least some of the gold medals in London this summer will come down to the final clean and jerk—you can bet the top lifters are working to make sure they won't be turned down for press-out and you should be doing the same thing.

Learn from top weightlifting coach Jim Schmitz by following the menu under the Articles tab at the top of the IronMind home page, or just click this link to go directly to Correcting Press-out in the Jerk.

###

The IronMind Forum: discuss this article, talk strength, get help with your training.

You can also follow IronMind on Twitter.