Combination Lifts For Form, Fitness and Fun
Combos for Form, Fitness and Fun by Jim Schmitz has just been added to the archives of training articles on the IronMind website: 3-time coach of the USA Olympic weightlifting team Jim Schmitz tells you how to benefit by combining the lifts and assistance exercises you've probably long done in isolation.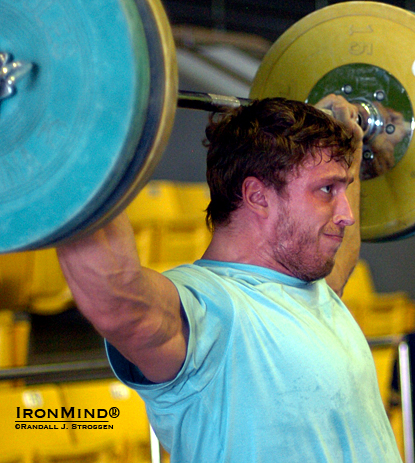 Dmitry Klokov, likely to be lifting for Russia in the 105-kg category at the London Olympics, knocks off some squat snatch-push presses behind the neck combinations in the training hall at the 2007 World Weightlifting Championships. IronMind® | Randall J. Strossen photo.


Click on the Training Articles button at the top of the IronMind homepage to see the full list, or click here to go directly to Combos for Form, Fitness and Fun.

###

The IronMind Forum: discuss this article, talk strength, get help with your training.

You can also follow IronMind on Twitter.