Colin Bryce Named BBC Olympic Commentator
Colin Bryce has been named the BBC commentator for weightlifting and wrestling at the London 2012 Olympics.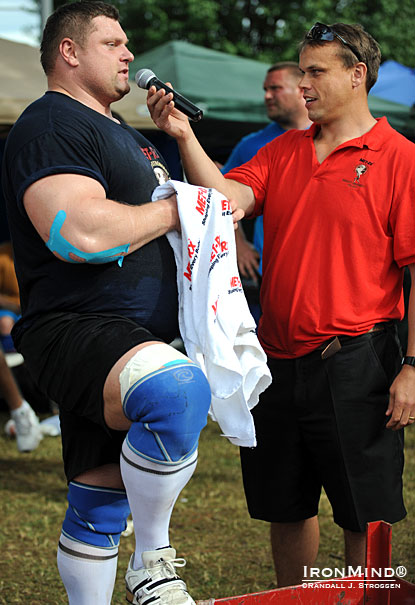 A familiar face in the strongman world, Colin Bryce (right) interviews Zydrunas Savickas (left) at the 2011 MET-Rx World's Strongest Man contest. Bryce will be doing weightlifting and wrestling commentary for the BBC at the London Olympics next year. IronMind® | Randall J. Strossen photo.


"This means I will be covering all of the classes in both sports on BBC 1 and BBC 2, BBC Interactive TV and possibly to certain English language countries that do not send their own commentators," Bryce told IronMind.

Along with his skills as a commentator, Bryce brings firsthand familiarity to the job.

In weightlifting, for example, Bryce has power snatched 130 kg and done a power clean and jerk with 170 kg when he was training as an Olympic blobsleigher.

"I based all my training around cleans, snatches and heavy pulls," said Bryce. "I never did any more than that when I competed at club weightlifting contests. My old club was Kentish Town in North London—sadly, now disbanded.

"My lifts certainly weren't the best on the British Team," said Bryce. "As you probably know, Scott Rider hit a 140-kg power snatch at 105 kg body weight. I believe he is around 150 kg in the power snatch now that he is over 120-kg body weight.

"Perhaps that's the powerful reason behind why Scott could have such a good claim to be the world's top caber tosser," said Bryce.

###

The IronMind Forum: discuss this article, talk strength, get help with your training.

You can also follow IronMind on Twitter.