CoC Silver Bullet: Mark Felix's Record Unscathed
Think no more than the Alamo or the Texas Rangers and you have to tip your hat to the Lone Star State, so when two of its top grip guys admitted they were taking aim at Mark Felix's world record in the CoC Silver Bullet, that got our attention at IronMind.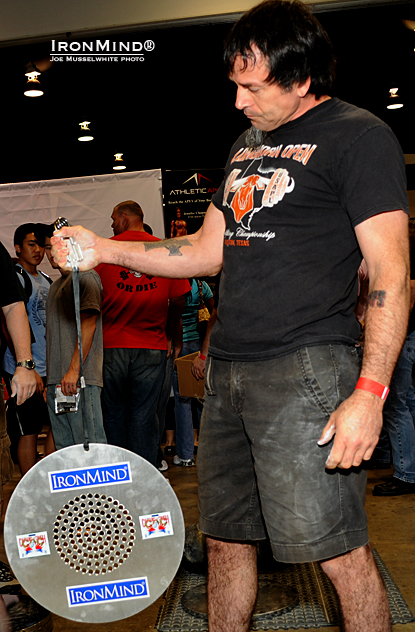 Eric Milfeld hung onto the CoC Silver Bullet for an impressive 34 seconds to win top honors at the 2012 Ronnie Coleman Classic. IronMind© | Photo courtesy of Joe Musselwhite.


Paul Knight is one of nine men worldwide who has been certified as officially closing the fearsome Captains of Crush No. 3.5 gripper, plus he's conquered the IronMind Red Nail and has been tipped as quite possibly the first who will succeed in bending the IronMind Gold Nail. In any test involving lower arm strength, Knight has got to be considered a player.

Well, when Knight told IronMind that Eric Milfeld might really be the guy to watch, we took that as gentlemanly modesty, but it did prepare us for the results: while neither man broke the world record, Milfeld took home the bacon, with a CoC Silver Bullet time of 34 seconds.

Not sure if they're betting men, but our money is still on Paul Knight to make some waves on this event before he's done and in the meantime, big congratulations to Eric Milfeld, who also won the grip contest hosted by Knight at the Ronnie Coleman Classic.

###

The IronMind Forum: discuss this article, talk strength, get help with your training.

You can also follow IronMind on Twitter.