CoC Silver Bullet Coming to the World of Grip
"World of Grip in the UK are excited to be bringing the new IronMind event 'the Silver Bullet' to three prestigious events in the UK calendar in 2012," David Horne said.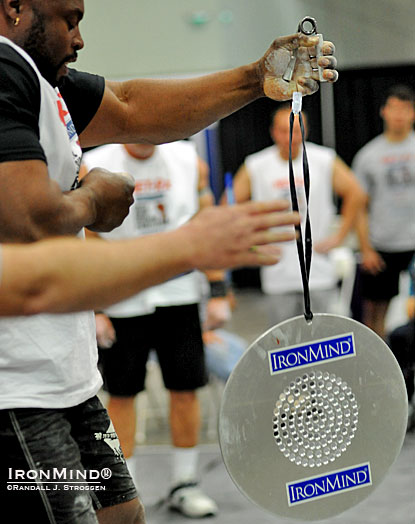 Exciting for competitors and fans alike, the CoC Silver Bullet tests crushing grip strength and endurance in a visually interesting way. Here, Mark Felix's hand opens on the Captains of Crush No. 3 gripper and referee Mike Corlett signals for time as the CoC Silver Bullet is launched: Felix is credited with the inaugural world record as he held on for 43.25 seconds at the 2012 LA FitExpo. IronMind® | Randall J. Strossen photo.



Horne, who has been a competitor, student and promoter of grip for more than two decades, continues to build his competitions, drawing competitors worldwide through the 21st century equivalent of postal meets.

"Starting off on May 12th with the 20th British Grip Championships, then there is the World's Strongest Hands–The Gathering, which covers the weekend of 7 and 8 of July, and attracting an international field from Europe and USA. Both of these events are at the Grip Factory in Stafford.

"The final contest in the trio is the Yorkshire Grip Classic 2012, being run in the town where Thomas Inch was born, Scarborough on the 23 September.

"The Silver Bullet event is quite a different event from the norm in using grippers, bringing crushing, supporting and endurance all together in one event - should be a fun and painful time!"

For full details on these grip contests, please visit World of Grip.

###

The IronMind Forum: discuss this article, talk strength, get help with your training.

You can also follow IronMind on Twitter.