CoC Silver Bullet, Apollon's Axle and Rolling Thunder at the Nordic Fitness Expo
"IronMind grip strength feats were available for testing at the Fitnesstukku booth at the Nordic Fitness Expo, where I was on Sunday with Apollon's Axle, Rolling Thunder and CoC (Captains of Crush) Silver Bullet, offering people the opportunity to test the events and attempt the limits for IronMind Grip Classic finals in Helsinki on November 27," Jyrki Rantanten reported to IronMind today.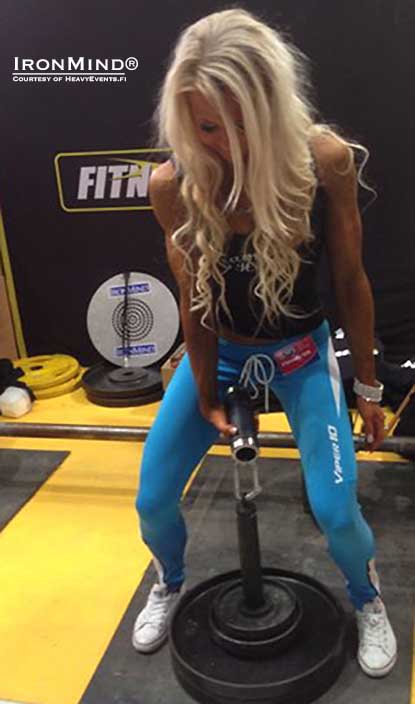 Finnish Fitness competitor Mira Kuisma goes all out on the Rolling Thunder at the Fitnesstukku booth a the Nordic Fitness Expo. IronMind® | Photo courtesy of HeavyEvents.fi


"I lost count of how many people visited there testing it as Fitnesstukku gave away a free t-shirt or protein bar to anyone who attempt it. Along with expected results of getting some well known athletes qualified we got also some nominees and especially the gym ladies surprised me more than one time: In Apollon´s Axle, there was a bunch of women who had never done the event and lifted 80 kg on the Apollon's Axle more or less easily. The most impressive was IFBB Figure Pro Nicole Acker who stopped by and did several reps with long stops with the weight, no warm-up, no chalk, so, it was proven that you can be fit for the grip :)

"The list of all qualified athletes [for the IronMind Grip Classic] will be published after all qualifications are done," said Rantanen.

#

Want to talk strength? Join the IronMind Forum.

You can also follow IronMind on Twitter and on Facebook.