Close Finish in the 77-kg Class at the Asian Weightlifting Championships
Pyeongtaek, South Korea—When Nursultan Rakhatov (Kazakhstan) finished the snatches with an 8-kg lead over Ulugbek Alimov (Uzbekistan), he seemed ready to cruise to the overall victory.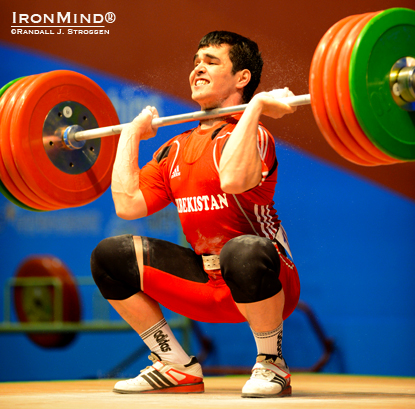 Look at where Ulugbek Alimov meets the bar on this 195-kg attempt in the clean and jerk. Alimov won the 77-kg category at the 2012 Asian Weightlifting Championships. IronMind® | Randall J. Strossen photo.


Rakhatov worked though three good snatches, to end with 153 kg, while Alimov missed 145 on his second attempt and had to repeat it.

Hints that the tide could turn came quickly in the clean and jerk when Rakhatov opened with a good 175, while Alimov replied with 180 for his first attempt. Rakhatov got 182 kg overhead on his second attempt, but was turned down for press out, and he came back to make it on his third attempt.

Alimov had two attempts left and he used the first of them to nail 190 kg for the gold medal in the jerk and total, on body weight. Not quite ready to call it a night, though, he took 195 kg on his third attempt and while he racked the bar, he dumped it quickly.

The bronze medal in the total went to Aman Meredov (Turkmenistan), 21 kg behind the leaders at 314 kg.

###



Visit the IronMind Forum: talk strength, discuss this story. Strongman, grip, Highland Games, Olympic lifting, stones and more.

You can also follow IronMind on Twitter.