Close Battle Opens 2012 Asian Weightlifting Championships
Pyeongtaek, South Korea—The men's 56-kg category didn't feature the likely medalists at the upcoming London Olympics, but the gold and silver medal for the total were decided on body weight.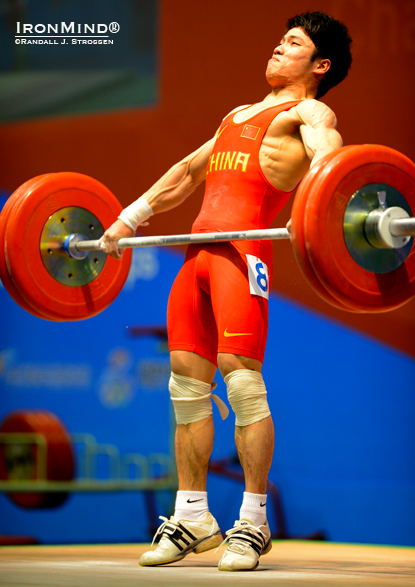 Li Fabin finishes his pull on this 126-kg snatch as he won the men's 56-kg category at the 2012 Asian Weightlifting Championships. IronMind® | Randall J. Strossen photo.


Ji Guohua (China) was a casualty of the snatch as he missed 122 kg three times, opening the door for a two-way duel featuring his teammate Li Fabin and Vietnam's Tran Le Quoc Toan.

The pattern was set as both lifters marched through three good snatches—121, 125 and 126 kg—and his lighter body weight giving Li Fabin top honors.

Things continued like this as once again, the pair matched each other in the clean and jerk with good lifts of 150 and 153-kg before missing 155 kg.

Jadi Setiada (Indonesia) got the bronze medal in the total via 123/153; and Ji Guohua did not go home empty handed as he won the gold medal in the jerk with 154 and then had good try with 160 kg.


###



Visit the IronMind Forum: talk strength, discuss this story. Strongman, grip, Highland Games, Olympic lifting, stones and more.

You can also follow IronMind on Twitter.