Clay Edgin Goes Nuts: Dave Morton and Greg Amidon on Red Alert
Clay Edgin hasn't just been making huge strides in his crushing grip - lately, he seems to be taking things to the very edge.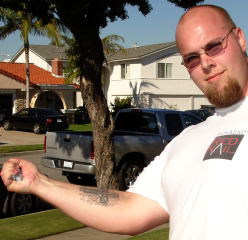 Last month, at Steve Belanger's great Grip Gathering, Clay Edgin demonstrated what crushing grip is all about: No smoke and mirrors, just starting with the full credit card gap, Clay laid some serious horsepower on the exact 2004 No. 3 Captains of Crush® gripper that had him stalled out earlier in the year. No contest this time - Clay walked right through this challenge like it was a piece of paper. IronMind® | Randall J. Strossen, Ph.D. photo.
Clay just reported, "Dave Morton, Greg Amidon, myself and a couple others get online several times a week and train our grip via webcam.

Well last night Dave dared me to see if I could crack a nut between the handles of my #3 but the only nuts in the house (besides yours truly) were some peanuts in the shell. I smooshed the first couple of nuts and then figured out that you have to grind the handles of the gripper to make the shell disintegrate. I tried with a #4 but I wasn't strong enough. I also smashed a bottlecap between the #3 handles but that wasn't as hard as the peanut. Then I asked Dave if he thought smashing a penny with a gripper was possible and he didn't know, so I took a gripper that was about the strength of the Trainer and over the course of a few squeezes managed to bend the penny in half. Getting the initial bend was pretty tough, but after that it went easy."

Not content to sit around and twiddle their thumbs while Clay had all the fun, Dave bent 30 IronMind® Red Nails™ and Greg bent 20 IronMind® Red Nails™ over the course of about an hour and a half.

Way to go guys!