Ciricu Wins the 94s, Bedzhanyan Takes the 105s
Antalya, Turkey—Lots of action at the European Weightlifting Championships as Anatoli Ciricu (Moldava) won the men's 94-kg category and David Bedzhanyan (Russia) won the 105-kg class.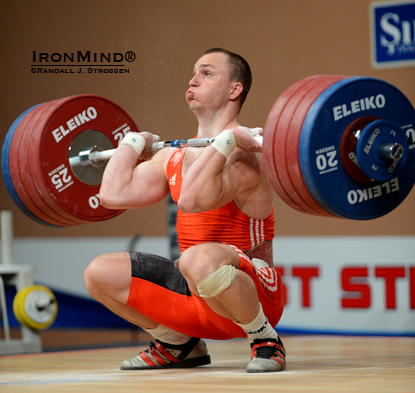 When 94-kg competitor Anatoli Ciricu cleaned and jerked this 224 kg at the 2012 European Weightlifting Championships, he joined the elite +400-kg club. IronMind® | Randall J. Strossen photo.



In the 94s, Aurimas Didzbalis set a dangerous precedent for the Lithuanians: he went three-for-three in the snatch, was relatively restrained in celebrating his success and he won the gold medal. Anatoli Ciricu finished at 178 kg, two kilos behind Didzbalis, for the silver medal, and Ibrahim Arat (Turkey) got the bronze medal with 171 kg.

Ciricu had won the gold medals in the jerk and total with his second attempt, 218 kg, but he came out for his third attempt anyway—making 224 kg and breaking the 400-kg barrier.

In the105-kg category, all eyes were on David Bedzhanyon (Russia) after his world-record performance at the President's Cup last year.

Bedzhanyan knocked off three good snatches (175 kg, 180 kg and 185 kg) and then opened with 220 kg in the clean and jerk, which he handled as if it were 100 kg—power jerking it as further evidence of his mastery of the weight. He moved to 230 kg on his second attempt and it looked as if he racked the bar a bit forward and low, which might have contributed to missing the (power) jerk. Undaunted, he called for 239 kg on his third attempt, in a bid to break his recent world record, but he wasn't able to rack the bar.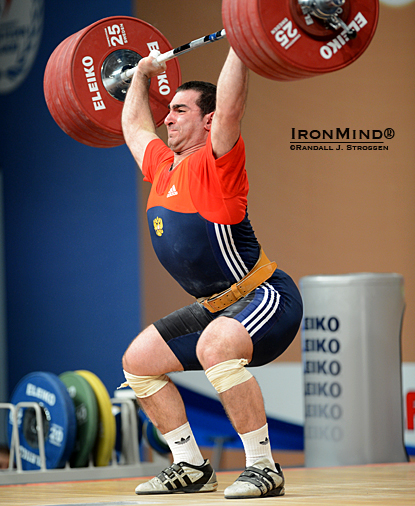 David Bezhanyan lost this 230-kg jerk, but was impressive nonetheless. IronMind® | Randall J. Strossen photo.


###



Visit the IronMind Forum: talk strength, discuss this story. Strongman, grip, Highland Games, Olympic lifting, stones and more.

You can also follow IronMind on Twitter.