Cho Jae-Hun Certifies on the IronMind Red Nail
Congratulations to Cho Jae-Hun, who has just been certified on the IronMind Red Nail—proving his prowess as a steel bender.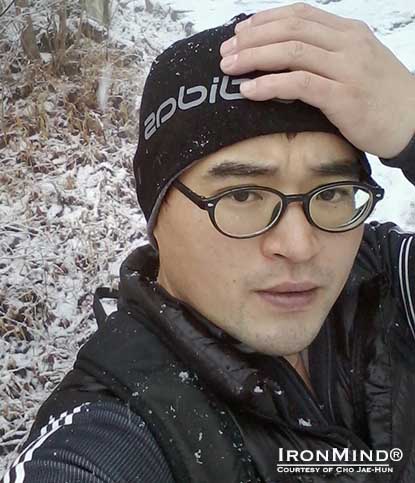 Cho Jae-Hun is the latest man to be certified on bending the benchmark IronMind Red Nail. IronMind® | Photo courtesy of Cho Jae-Hun


Saying that after he suffered a fracture in a cycling accident five years ago, Cho Jae-Hun developed an interest in grip strength at the SAP CrossFit gym in Korea.

34-year old Cho Jae-Hun, who is 170 cm (about 5' 7") tall and weighs 85 kg (about 187 lb.), said his current goal is to bend the Red Nail using the reverse technique, and saying "some day I want to challenge for [the] Gold Nail."

Congratutions to Cho Jae-Hun, whose name has been added to the Red Nail Roster, and many thanks to Mun Jae-Uk for refereeing Cho Jae-Hun's official attempt to bend IronMind's Red Nail.

#

Want to talk strength? Join the IronMind Forum.

You can also follow IronMind on Twitter and on Facebook.