Chinese Weightlifting Team Wins its First Gold Medal at the Beijing Olympics
Beijing - The powerhouse Chinese weightlifting team opened its 2008 Olympic appearance with a golden performance, as Chen Xiexia went six for six in the women's 48-kg class.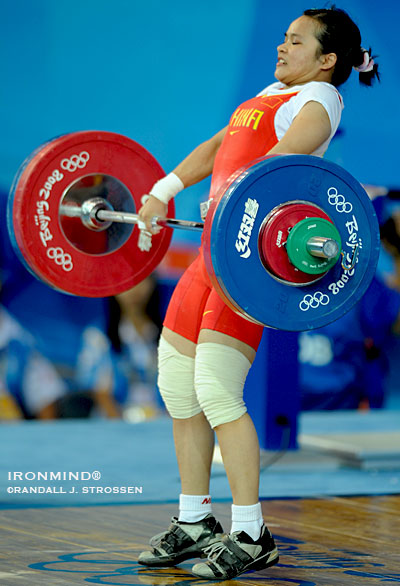 On the homestretch, Chen Xiexia (China) cranks on her 117-kg third attempt clean and jerk. Chen stuck with the game plan and netted China's first gold medal in weightlifting today. IronMind® | Randall J. Strossen, Ph.D. photo.

Chen sailed through a perfect meet, ending with 95 kg in the snatch and 117 kg in the clean and jerk, good for new Olympic records in the clean and jerk, and the total. As much as Chen appeared to be lifting well within her capabilities, she finished 13 kg ahead of Sibel Ozkan (Turkey). Chen Wei-Ling (Taipei) won the bronze medal with a total of 196 kg.

The defending Olympic champion, Nurcan Taylan (Turkey), bombed in the snatch - missing 84 kg three times.