China: One-Two in the 62s
Doha - One way to keep a Chinese weightlifter from winning a gold medal at the 2006 Asian Games is to enter two in a class - sure, one still wins, but the other one gets the silver medal . . . at least that's the way it went in the 62-kg category today.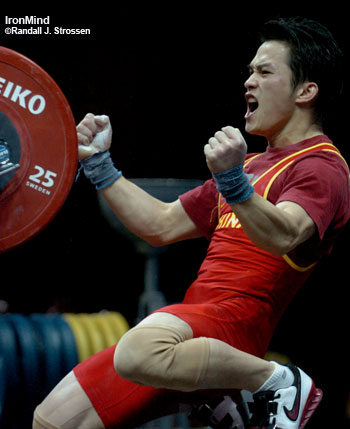 Celebrating his victory, Qui Le hits the ground as his winning lift - a 175-kg clean and jerk - bounces on the platform at the Asian Games today. IronMind® | Randall J. Strossen, Ph.D. photo.
Teammates Qiu Le and Mao Jia were listed for identical openers and it soon became apparent that unless there was a serious miscue, they were going to make their class a two-horse race for the top honors. Both lifters nailed 136 kg for their opening snatch, and while Qiu made a good lift with 140 on his second attempt, Mao missed the same weight. Mao came back to make the 140 on his third attempt, but then Qiu, who was heavier, made 142. Qiu led off again in the clean and jerk, making a good 168, and then Mao missed the squat jerk on the same weight and he repeated - this time, he made an easy, silky-smooth lift. Qiu made another good lift with 173 on his second attempt and then Mao took 175 on his third, in a bid to move into gold medal position. He made a good lift but his lead was short lived because Qiu followed with the same weight, made a very nice lift and pushed his teammate down to the silver medal. Qui totalled 317, Mao got 315, and Im Yong Su (North Korea) hit 300 via 135/165.