China Grabs the First Two Gold Medals in Weightlifting at the Asian Games
Donguang, China – Weightlifting at the Asian Games opened in the best possible way for host country China as Wu Jingbiao won the men's 56-kg class and Wang Mingjuan won the women's 48-kg class.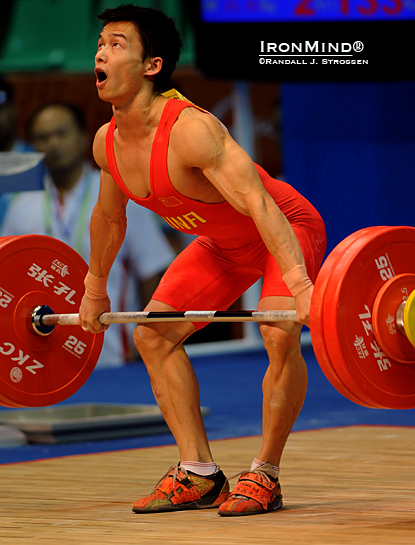 Wu Jingbiao is about to pop this 133-kg snatch, good for a new Asian and new Asian Games record. IronMind® | Randall J. Strossen photo.


Wu missed 136 kg on his third attempt in the snatch, and after making his opening clean and jerk, 152 kg, he missed 160 kg twice—missing the clean on his second attempt and then the jerk on his third attempt. Cha Kum Choi (North Korea) was second with 276 kg and Jadi Setiadi (Indonesia) was third with 271 kg.

Wang Mingjuan dominated the women's 48-kg class, posting a 210-kg total. Thailand's Pensiri Laosirikul was second with 192 kg and Chen Wei-Ling (Taipei) was third with 191 kg.

###


Want to talk strength? Join the IronMind Forum!

You can also follow IronMind on Twitter.