Chen Hongquing Wins the 62s at the Asian Weightlifting Championships
Pyeongtaek, South Korea—Chen Hongquing swept the gold medals in the 62-kg category, proving once again the depth of men's weightlifting talent China has particularly in the lighter body weight classes.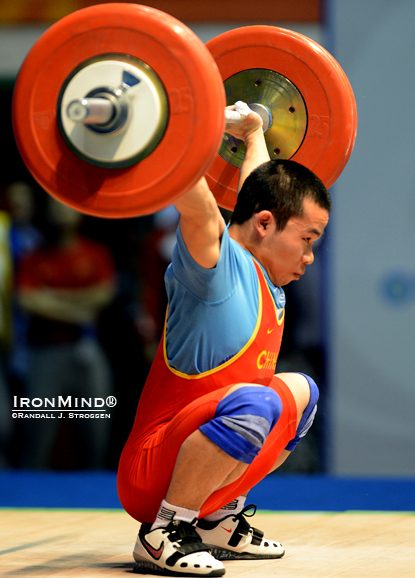 Chen Hongquing sank the putt on this 135-kg snatch, on his way to winning all three gold medals in the men's 62-kg class at the 2012 Asian Weightlifting Championships. IronMind® | Randall J. Strossen photo.


Chen opened with a good lift at 132 kg, followed with another one at 135, and then missed 137 kg up and over. Umburbek Bazarbayev (Turkmenistan) hit 125 kg on his opener and unfazed by missing 130 kg on his second attempt, came back and nailed 133 kg on his third attempt for the silver medal in the snatch. Muhamad Hasbi (Indonesia) got the bronze medal in the snatch with 131 kg, edging Ji Hun-Min (Korea) on body weight.

Chen, a squat jerker, made his first two clean and jerks, 165 and 169 kg, and with his gold medal position in the jerk and total secured, took a crack at 172 kg, had it overhead, but couldn't hold the jerk. Hasbi got the silver medal in the jerk with 166 kg and Ji Hun-Min picked up the bronze with 164. Third attempts were a bit of a stretch in this jerk as each of the top seven missed their third attempts.

Earlier in the day, Citra Febrianti (Indonesia) appeared to be blacking out as she dropped the bar after cleaning 112 kg in the women's 53-kg class, and when she collapsed on the platform the best guess was that she had simply passed out.

Within seconds, though, it was apparent that something else was wrong and then Febrianti started screaming in pain.

As the medical team continued to attend Febrianti, the situation took a terrible turn for the worse and the medical team began administering CPR to the stricken lifter. Fabrianti left the platform on a stretcher and was taken to the hospital.

Although there was no word officially, I was told that there was a concern Febrianti might have injured her carotid artery.


###



Visit the IronMind Forum: talk strength, discuss this story. Strongman, grip, Highland Games, Olympic lifting, stones and more.

You can also follow IronMind on Twitter.